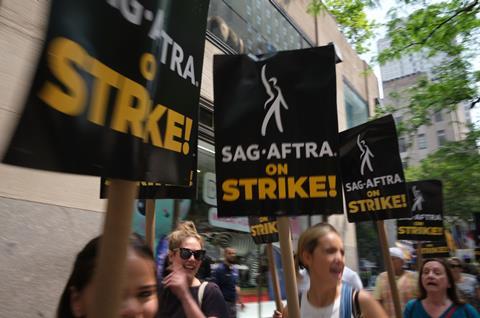 Less than 24 hours after the US writers strike ended, actors union SAG-AFTRA and the Alliance of Motion Picture and Television Producers (AMPTP) have announced that they will return to the negotiating table on Monday (October 2).
Actors representatives and the AMPTP have not held formal negotiations since SAG-AFTRA called a strike in mid-July.
In a brief joint statement on Wednesday evening (September 27) the groups said: "SAG-AFTRA and the AMPTP will meet for bargaining on Monday, Oct 2. Several executives from AMPTP member companies will be in attendance."
The involvement of high ranking studio executives appears to have been one of the factors that helped the AMPTP and the Writers Guild of America (WGA) reach a tentative contract agreement on Sunday, 146 days into the writers strike but only five days after negotiations between the two sides resumed.
An agreement between actors and the companies could, however, take longer to reach. With its 160,000 members, SAG-AFTRA has a longer list of issues to deal with than did the WGA. And since the actors strike began 77 days ago, SAG-AFTRA and the AMPTP have exchanged some heated rhetoric.
Soon after the most recent negotiations broke down and the actors strike began, SAG-AFTRA said that from the start of talks the AMPTP "wouldn't meaningfully engage on the most critical issues."
The sides, the Guild added, "remain far apart on the most critical issues that affect the very survival of our profession."
The AMPTP said the Guild "mischaracterise[d]" the talks.
A month ago the Guild insisted that it remained "ready at a moment's notice to go back to the bargaining table to secure a righteous deal."