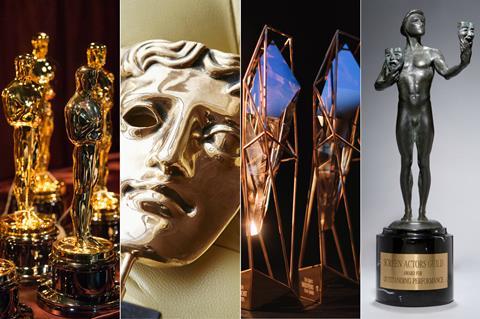 The 30th annual Screen Actors Guild (SAG) Awards ceremony has been set for Saturday, February 24, 2024 at the Shrine Auditorium in Los Angeles.
The ceremony will be the first SAG awards show to be streamed live on Netflix, after the company signed a multi-year deal with the Guild earlier this year.
The submissions period for SAG nomination consideration will run from August 28 to October 27 and the nominations voting period will begin December 4 and end on January 7. Nominations will be announced on January 10.
Final voting will take place from January 17 to February 23.
At this year's SAG awards ceremony on February 26 Everything Everywhere All At Once became the first film to earn three individual acting awards and the first to win four, including the award for acting ensemble. The film went on to win seven Oscars, including best film and three of the four acting statuettes.
The 2024 Oscar ceremony was recently set for March 10 and earlier this week Film Independent set its Spirit Awards ceremony for February 25.