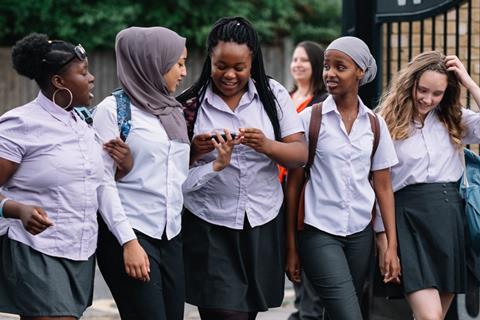 The Les Arcs Film Festival has unveiled the line-up for its 11th edition, which will unfold in the French Alps Dec 14-21, with a timely ecological angle for the first time.
Artistic director Frédéric Boyer has selected 120 films, which will play across six sections, including the Competition, Playtime, Hauteur and Avant-Premieres sidebars. Some 22,000 public and professional attendees are expected to attend in line with 2018.
Dutch actor-turned-director Halina Reijn's psychological thriller Instinct, Fyzal Boulifa's UK tragic female friendship tale Lynn + Lucy and compatriot Sarah Gavron's teenage London-set drama Rocks – will be among the 10 films competing for the festival's Crystal Arrow.
As previously announced, Guillaume Nicloux will head the jury. The other jury members will comprise Argentinian-French writer and director Santiago Amigorena, Hungarian Golden Bear-winning director Ildikó Enyedi, German actress Nina Ross and Afghan director Atiq Rahimi.
The overall line-up features a number of hopefuls in the Academy Awards best international feature film category, the long-list for which will be announced Dec 16, as the festival kicks off.
Aside from Reijn's Instinct, which is the submission for the Netherlands, the competition line-up also includes Germany's entry System Crasher by Nora Fingscheidt.
The Playtime section, devoted to all types of European genre films from road movies to comedies, features Polish submission Corpus Christi. Other titles in the Playtime section include Katrin Gebbe's Pelican Blood and Alvaro Longoria's ecology documentary Sanctuary, featuring Javier and Carlos Bardem.
The Avant-Premiere section, showcasing hot upcoming theatrical releases and is programmed in cooperation with local distributors, features the world premiere of Regis Roinsard's The Translators, revolving around an investigation into the leak of a major upcoming literary work. Mars Films is due to release on Dec 18.
Gaumont will preview Anthony Marciano's comedy Play, about a man who has filmed his life since he was 13-years-old, ahead of its Jan 1,2020 release.
Sophie Dulac Distribution will screen Filippo Meneghetti's well-reviewed TIFF title Deux about two retired women whose secret life together is turned upside-down when a neighbour delves into their private life.
Guests of Honour
The latter film's co-star, the German actress Barbara Sukowa, is a guest of honour of the festival this year. As part of the tribute, the festival will also screen career highlights, Rainer Werner Fassbinder's 1981 film Lola and Margarethe von Trotta's Hannah Arendt.
As previously announced, Isabelle Huppert will also attend as the ambassador of the industry's programme's Talent Village, aimed at nurturing emerging talent. Oscar winning director Laszlo Nemes will also participate in the village to give a masterclass.
This year's regional focus on Finland and the Baltics gathers 12 old and new features from the region including Finnish director Aki Kaurismaki's 2011 drama Le Havre, Estonian filmmaker Ernestas Jankauskas's adoption drama Sasha Was Here and Latvian animation Rocks In My Pockets about women suffering from depression by Signe Baumane.
Ecology drive
In other previously announced news, the festival will debut its first ever Cinema Green Lab aimed at encouraging film professionals to think about their environmental impact of their work and how they can become part of the campaign to protect the planet.
"We're creating the Cinema Green Lab to put eco-responsibility at the heart of the festival," said festival co-founders Pierre-Emmanuel Fleurantin and Guillaume Calop in a joint statement.
They added, however, that while the festival would also attempt to generate less waste and to reduce its carbon footprint, they were under no illusions regarding the event's environmental impact.
"Bringing people from the four corners of Europe generates pollution. Should we embrace virtual meetings instead, give-up on the festival altogether. That's not how we see things, we'd like to continue promoting the benefits of human, multicultural meetings."
For its inaugural edition, three of the films screening in the wider line-up have been awarded the festival's inaugural Cinema Green Lab, Alvaro Longoria's Sanctuary, Jean-Michel Bertrand's Marche Avec Les Loups and Thomas Balmès's Sing Me A Song.
There will also be debate around the issue of raising public awareness around environmental issues. Edouard Bergeron, director of the recent French hit rural drama In The Name Of The Land, producer Christophe Rossignon, who produced the film, and photographer and documentarian Yann Arthus Bertrand, who has made numerous works about the environment, will be among those participating.
The festival will also continue its recent focus on women in film with the sixth edition of its Femme de Cinema prize, the recipient of which has yet to be announced, and its Femme de Cinema Lab, a think tank exploring ways to achieve gender equality in the film industry run in collaboration with the Collectif 5050x2020.
Industry events
The Industry Village will run Dec 14-18 across its four existing sections of the Coproduction Village, the Work-in Progress sidebar, the Talent Village, aimed nurturing emerging filmmakers, and the Music Village. More details here.
Les Arcs 2019 line-up
Competition
A Thief's Daughter (Spanish) - French premiere
Director: Belén Funes
Atlantis (Ukraine) - French premiere
Director: Valentyn Vasyanovych
System Crasher (France)
Director: Nora Fingschiedt
Echo (Iceland, France, Switzerland) - French premiere
Director: Runar Runarsson
Instinct (Netherlands) - French premiere
Director: Halina Reijn
Invisible (Lithuania, Latvia, Ukraine) - French premiere
Director: Ignas Jonynas
Lara Jenkins (Germany) French premiere
Director: Jan-Ole Gerster
Lynn + Lucy (UK, France) - French premiere
Director: Fyzal Boulif
Rocks (UK) (French premiere)
Director: Sarah Gavron
O Fim de Mundo (Switzerland)
Director: Basil Da Cunha
Playtime
Disco (Norway)
Director: Jorunn Myklebust Syversen
Corpus Christi (Norway)
Director: Jan Komasa
Our Lady Of The Nile (France)
Director: Atiq Rahimi
Patrick (France) (French premiere)
Director: Tim Meilants
Pelican Blood (France) (French premiere)
Director: Katrin Gebbe
Romulus & Remus – The First King (Italy) (French premiere)
Director: Matteo Rovere
Sing Me A Song (France, Switzerland, Germany) (French premiere)
Director: Thomas Balmès
Sanctuary (Spain) (French premiere)
Director: Alvaro Longoria
Avant-Premiere
The Translators (France) (world premiere)
Director: Regis Roinsard
The Holy Family (France)
Director: Louis-Do De Lencquesaing
Deux (France)
Director: Filippo Meneghetti
My Days Of Glory (France)
Director: Antoine De Bary
Play (France)
Director: Anthony Marciano
Back Home (France)
Director: Jessica Palud
Selfie (France)
Director: Thomas Bidegain, Marc Fitoussi Tristan Aurouet, Cyril Gelblat Vianney Lebasque
A Son (France)
Director: Mehdi M. Barsaoui
Voir Le Jour (France) (World Premiere)
Director: Marion Laine
Woman (France) (French Premiere)
Director: Anastasia Mikova, Yann Arthus-Bertrand