Industry events at this year's Sarajevo Film Festival focused on high-end TV production and funding sources.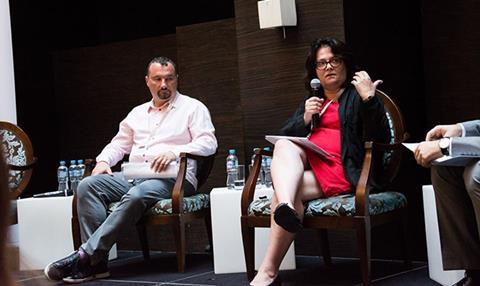 At this year's CineLink - the industry strand of Sarajevo Film Festival (Aug 12-20) – much of the discussion revolved around funding challenges for film-makers in the former-Yugoslavia region.
A variety of industry panels, discussions and masterclasses spotlighted topics including the production of high-end television drama, the emerging field of virtual reality, tax incentives schemes and national funding bodies.
There was plenty of chatter amongst the indigenous industry attending the event about the fact that the establishment of a regional fund would significantly aid producers from the area.
One model to follow could be the Nordic model, which backs high-end television and film projects through the Nordisk Film & TV Fund – encompassing Denmark, Norway, Iceland, Finland and Sweden (plus associated territories Åland Islands, Faroe Islands and Greenland).
Projects that have recently received production or distribution funding through the fund include Rams, Sparrows and the forthcoming Borg Vs McEnroe.
Petri Kemppinen, CEO of Nordisk Film & TV Fund, was in Sarajevo to deliver a "behind the scenes" look at the success behind Nordic drama projects.
He celebrated the success of the Nordic regional fund, but he pointed out that it is currently the small screen that is out-performing the big screen: "The performance of TV has been a surprising change over the past few years. Film distribution is getting harder."
He was also positive about tax incentives from the area, making a special note of the Icelandic example, which is the oldest of its kind in the Nordic region and now counts for "4% of the industry's GDP".
Co-production is essential for Balkan producers, Kemppinen said, but he also offered a note of caution for film-makers seeking co-production: "Believe in stories. Go for authentic stories, try to believe in them and collaborate around that. Don't create series for the sake of co-production."
In a separate session, CineLink invited representatives from nearby Croatia and Serbia [pictured top] to present the current tax incentives and funding available in their countries.
Sanja Ravlic from the Croatian Audiovisual Center highlighted the recent success of Croatia as a territory. She pointed out that of the six territories being considered – Croatia, Bosnia and Herzegovina, Macedonia, Montenegro, Serbia and Slovenia – Croatia's available public funding is the highest at $10m (€9m).
She said that, due to available tax incentives, the country had hosted a film or TV production every single day last year, and that had a "successful impact" on the country's wider economy.
She also took a moment to note how important film is to the region's cultural and political discourse: "The film industry is the safeguard of cultural diversity, it's a very potent industry."
Boban Jevtic, the head of Film Center Serbia, pointed out that Serbia produced 33 films last year, the most of any territory in the region being discussed.
Discussing international productions that use his territory, Jevtic suggested that the greatest challenge they faced was offering the amount of skilled film professionals needed to facilitate the level of productions coming into Serbia: "For us the biggest challenge isn't attracting productions, it's having enough skilled people to offer. In the film business there are many skills you can only learn by doing them."
Jovan Marjanovic, Sarajevo Film Festival's head of industry, added to proceedings by stating: "An easily detectable trend is the introduction of tax-based reliefs and incentives for local films. This is a more mature way of supporting the film industries in these countries, it's quite a change from a couple of years ago. The question is, what will it bring?"
That question was cause for debate amongst regional industry during CineLink, but many film-makers from the region continue to believe that it will take the introduction of a regional film fund to create real positive change.
"We are really the same markets," said director Nikola Ljuca, whose film Humidity plays in this year's competition at Sarajevo Film Festival, adding that he "absolutely" believes the introduction of a regional fund is necessary.
"The markets are based on language, here we basically speak the same language: Serbian, Bosnian, Montenegrin, Croatian, it's only named differently for political reasons. Most of the co-productions here are being done between these countries anyway. The state support is ok but the money is really not big, it's only doable through co-productions," he added.
Jovan Marjanovic agrees that the introduction of a regional fund is essential. "We have had this idea for more than 10 years. It's definitely necessary. There are regional organisations, the Regional Cooperation Council, for example, who would be a good host for this."
However, more funding will have to be found, but Marjanovic believes there is an obvious source, "There needs to be an injection of funding from the broadcasters."
This year's CineLink also contained plenty of positive moments, including HBO's announcement that it is making a bigger move into the region, and Sarajevo Film Festival partnering with Turkish broadcaster TRT to launch a new production fund for local film-makers.