The first of Sarajevo's Industry Days featured a discussion on the challenges of international co-production.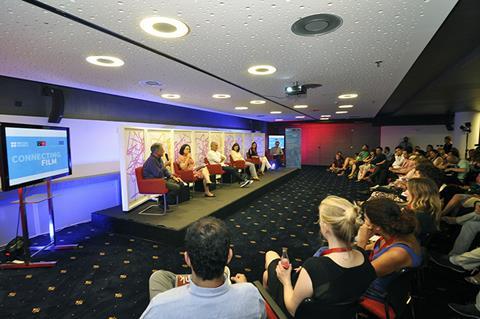 As the Sarajevo City of Film Fund expands this year from short micro-budget films to international features, the first of the festival's Industry Days saw the conference "International co-production – spreading the European co-production model overseas".
The panel comprised Sarajevo's head of industry Jovan Marjanovic; coordinator of the Mexican Film Commission at IMCINE, Mariana Cerrilla Noriega; Isabel Davis, head of international film fund at the BFI; Oscar-winning producer Cedomir Kolar of Paris-based ASAP Films; and Sanja Ravlic, head of coproductions at the Croatian Audiovisual Centre. The talk was moderated by Marten Rabarts of the National Film Development Corporation of India.
One major point discussed was that small territories find it tough to sign bilateral treaties that encourage co-production.
"When we approached Germany with an offer to sign a bilateral treaty, we were told they do not have time for that, and the only territory they are interested in is China," said Marjanovic.
"The films co-produced by small countries have been circulating but there has been no major growth of their reach, so we decided to do something on our own, and we are now giving a sort of a soft launch to the Global Co-production Fund, in order to answer the natural question: where next?"
The European Convention on Cinematographic Co-productions, first signed in 1992, is currently under revision to include non-European countries.
But a further problem is that small territories struggle to match the percentages required.
"If a French producer invests €3m, according to the Convention, a minority co-producer would have to come up with €600,000, which is practically impossible for small industries if they do not have bilateral treaties," said Ravlic.
"That is also one of the reasons the Convention is being revised, but this will take some time, and that is why initiatives like Global Co-production Fund are important.
"In film-making, you always want to go further and further, and it's not only about funding. It's about stories and imagination."
Mexico
One possibility might be far from the region, which is why IMCINE's Noriega took the trip to Sarajevo this year. In the past five years, Mexico has produced around 90 films annually, half of which are co-productions mostly with South America and other Spanish-speaking countries, and most recently, with the US.
"Mexico could definitely benefit from co-producing with Southeast European countries, not only because of the amazing locations there, but also because of their huge experience with multilateral co-productions," Noriega said.
"Mexico is the world's fourth market in theatrical attendance, and its potential market spreads out to 450 million Spanish language speakers, which is a huge chance for films co-produced with other countries."
India
Cedomir Kolar has found another possible answer in India. The first film he co-produced with India, The Lunchbox, became a worldwide hit, and the second, Danis Tanovic's White Lies, shot in Punjab in Hindi with Indian actors and will receive its world premiere at Toronto next month.
"It only took one trip to Goa Film Festival's Film Bazaar, and we decided to make two films," Kolar said.
Asked by Rabarts to share tips on how to achieve such success, Kolar replied: "There is no formula. Who would have thought that a film like Ida would sell 550,000 admissions in France?
"That is why I am happy and proud that I ended up living in France. It is not only the country of human rights, it is the country which invented cultural exception and author's rights as opposed to copyright.
"We opened up to Georgia and we see the results. Let's preserve the European spirit and our curiosity. It is not something we should just offer, it is something we have to enforce, especially in the light of the rise of the extreme right in Europe."