Four world premieres set for competitive strand.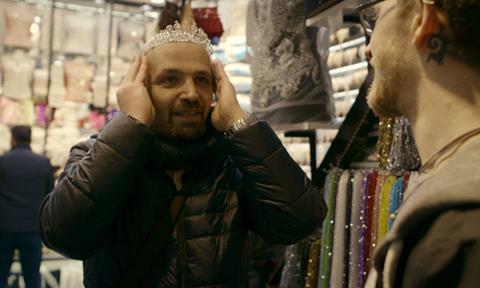 The 2017 Sarajevo Film Festival (Aug 11-18) has revealed the titles set to feature in its documentary competition this year.
The programme includes 14 films in total, seven less than last year, focusing on a variety of topics including sexuality, family, love and survival.
Alongside four world premieres - all from Bosnia - there are several high-profile regional premieres that have bowed at other festivals.
City Of The Sun (Mzis Qalaqi) premiered at the Berlinale and had its UK bow at Sheffield Doc/Fest (winning the Art Doc prize), where fellow Sarajevo title Mr Gay Syria [pictured] had its world premiere.
Avec L'Amour premiered at HotDocs in Canada, while the Iggy Pop-narrated In Praise Of Nothing will premiere at Locarno.
Line-up
World premieres
Guidance Through the Black Hole (Vodic Kroz Crnu Rupu)
Serbia, Bosnia and Herzegovina, United Kingdom, 2017, 76 min.
Directors: Aleksandar Nikolić, Zlatko Pranjić
Home (Dom)
Croatia, Bosnia and Herzegovina, 2017, 40 min.
Director: Zdenko Jurilj
Undercovered
Bosnia and Herzegovina, 2017, 53 min.
Directors: Nejra Latić Hulusić, Sabrina Begović Ćorić
When Pigs Come
Serbia, Croatia, Bosnia and Herzegovina, 2017, 72 min.
Director: Biljana Tutorov
Regional premieres
Avec L'Amour
Macedonia, 2017, 66 min.
Director: Ilija Cvetkovski
City of the Sun (Mzis Qalaqi)
Georgia, USA, Qatar, Netherlands, 2017, 103 min.
Director: Rati Oneli
The Family (Druzina)
Slovenia, 2017, 106 min.
Director: Rok Biček
In Praise of Nothing
Serbia, Croatia, France, 2017, 78 min.
Director: Boris Mitić
Kinders
Austria, 2016, 95 min.
Director: Arash T.Riahi, Arman T.Riahi
Mr Gay Syria
Turkey, France, Germany, 2017, 84 min.
Director: Ayşe Toprak
No Place For Tears (Gozyasina Yer Yok)
Turkey, 2017, 84 min.
Director: Reyan Tuvi
Planeta Petrila
Romania, 2016, 80 min.
Director: Andrei Dascalescu
Playing Men
Slovenia, Croatia, 2017, 60 min.
Director: Matjaž Ivanišin
Ultra
Hungary, Greece, 2017, 81 min.
Director: Balázs Simonyi