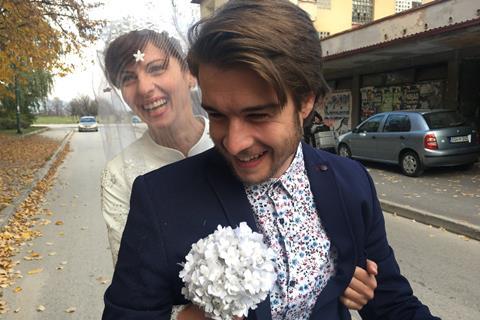 Twenty films will have world premieres in the competitive sections of the 28th Sarajevo Film Festival, which runs from August 12-19 this year.
Those films are among a 51-strong programme of titles competing for the Heart of Sarajevo awards, across four competition sections: Feature Film, Documentary Film, Short Film and Student Film.
Scroll down for the full list of features
Eight of the films are international premieres, with one European debut, 21 regional premieres and one national launch.
The main Feature Film section consists of eight titles, of which four are world premieres, and five are directed by women. These include the world premiere of Aida Begic's Bosnian film A Ballad, which has been developed through the festival's CineLink Industry Days.
The film follows an unambitious housewife and mother who returns to her parental home and realises that she is a prisoner of provincial rules. In an attempt to rediscover her true self, she auditions for a film that is shooting in the neighbourhood.
Bosnian director Begic has previously made three features including 2008 debut Snow, which won the Grand Prize at Cannes Critics Week; and 2012's Children Of Sarajevo, which received a Jury Special Distinction in Un Certain Regard.
Regional premieres in the Feature Film strand include Marie Kreutzer's popular Cannes 2022 title Corsage, and Maryna Er Gorbach's Ukrainian Sundance winner Klondike.
The jury for the section will select winners for best film, director, actress and actor, awarding a total of €31,000 (£26,430) in prize money.
The 22-strong Documentary Film section includes 13 features, of which five are world premieres. These include Ukrainian feature Diary Of A Bride Of Christ, in which director Marta Smerechynska looks at the world she was brought up in through the life of her estranged sister Nastia, a Catholic nun.
The Sarajevo competitive sections are open to films and filmmakers from the Balkan and Eastern European region. Creative director Izeta Gradevic led this year's selection, choosing from 761 submissions of which 160 were feature films.
The festival will open with Ruben Ostlund's Triangle Of Sadness; the Swedish director is one of three honorary awardees announced so far, alongside directors Sergei Loznitsa and Paul Schrader.
Sarajevo Film Festival 2022 feature titles
Feature Film
A Ballad (Bos & Her) dir. Aida Begic*
Men Of Deeds (Rom-Bul) dir. Paul Negoescu*
Riders (Slovenia-Cro-Ser-It-Bos & Her) dir. Dominik Mencej*
Six Weeks (Hun) dir. Noemi Veronika Szakonyi*
Corsage (Austria-Lux-Ger-Fr) dir. Marie Kreutzer
Klondike (Ukr-Tur) dir. Maryna Er Gorbach
Safe Place (Cro) dir. Juraj Lerotic
Serviam – I Will Serve (Austria) dir. Ruth Mader
Documentary Film
Diary Of A Bride Of Christ (Ukr) dir. Marta Smerechynska*
Lights Of Sarajevo (Bos & Her) dir. Srdan Perkic*
Paying A Visit To Fortuna (Hun-Cro) dir. Matyas Kalman*
The Chalice. Of Sons And Daughters (Rom) dirs. Catalina Tesar, Dana Bunescu*
Too Close (Rom-Hun) dir. Botond Pusok*
Bigger Than Trauma (Cro) dir. Vedrana Pribacic
Another Spring (Ser-Fr-Qat) dir. Mladen Kovacevic
A Provincial Hospital (Bul-Ger) dirs. Ilian Metev, Ivan Chertov, Zlatina Teneva
Atonal Glow (Geo) dir. Alexander Koridze
Fragile Memory (Ukr) dir. Igor Ivanjko
Living Together (Austria) dir. Thomas Furhapter
No Place For You In Our Town (Bul) dir. Nikolay Stefanov
Museum Of The Revolution (Ser-Cro-Cze) dir. Srdan Keca
* - world premiere