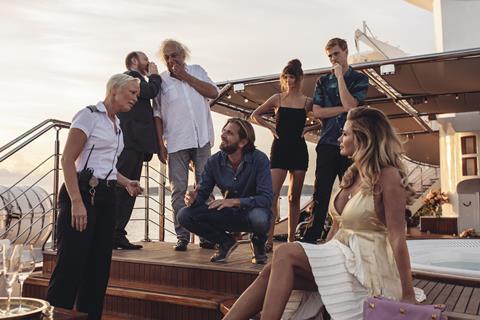 Palme d'Or winner Triangle Of Sadness will open the 28th Sarajevo Film Festival on August 12, with director Ruben Ostlund receiving an honorary Heart of Sarajevo award at the opening ceremony.
The award is given in recognition of Ostlund's 'oustanding contribution to the art of film', the festival says.
The Sarajevo screening is part of a festival tour for Triangle Of Sadness since its Cannes victory in May. It played at Sydney Film Festival last month, will open Jerusalem Film Festival tomorrow and is set for New Zealand International Film Festival in August.
Curzon holds UK-Ireland rights to the film, and is yet to set a release date. It is scheduled for release in France on September 28 through Bac Films, and on October 13 in Germany through Alamode FIlmverleih.
Mirsad Purivatra, former Sarajevo festival director and now president of parent company Obala Art Centar, and new festival director Jovan Marjanovic were associate producers on Triangle Of Sadness through the Obala Art Centar.
Triangle Of Sadness is a Sweden-Germany-France-UK co-production. The film is a satire of the super-rich, depicting a group trapped on an island after the sinking of their luxury cruise ship.
It is Swedish filmmaker Ostlund's sixth feature. He broke out internationally with his fourth film Force Majeure, which won the Cannes Un Certain Regard Jury award and was nominated for a Golden Globe. His next title The Square won his first Palme d'Or, and was nominated for best foreign language film at the Oscars.
He was previously president of the Sarajevo Competition jury in 2019, awarding the top prize to Ena Sendijarevic's Bosnian-Dutch drama Take Me Somewhere Nice.
The 28th Sarajevo Film Festival will run from August 12-19, with the full programme announced tomorrow (Thursday 21).