Production support scheme to expand from short micro-budget films to international features.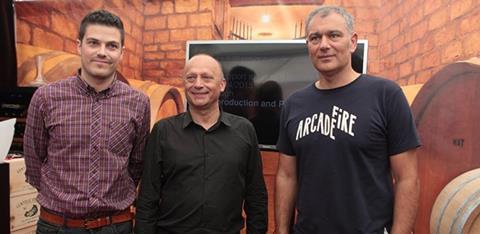 A film fund aimed at generating co-production and distribution between Southeast Europe and international partners has been launched at the Sarajevo Film Festival (Aug 15-23).
It marks a relaunch for the Sarajevo City of Film Fund, which helped produce 25 shorts by young filmmakers from 12 countries across Southeast Europe from 2008 to 2013. The total investment during that time totalled €350,000 in cash and €350,000 in services.
Following an internal review in 2013, a move from shorts to features was decided and led to the making of Bridges of Sarajevo, an omnibus that debuted at this year's Cannes Film Festival comprising shorts from 13 directors including Jean-Luc Godard and Cristi Puiu.
The newly relaunched fund will now look beyond the borders of the region and will be open to feature film projects that can demonstrate their potential to raise funding and find placement in new markets, primarily the Middle East and North Africa, the Americas, India and East Asia.
Mirsad Purivatra, director of the Sarajevo Film Festival, said: "Since we started out during the siege of Sarajevo, we have spent the past 20 years developing a major international film festival, but also helping rebuild the film industry in our region.
"Through our co-production market CineLink we have assisted in taking the regional industry into the new European co-production landscape and building partnerships with the rest of Europe. Now with this in place, it's time to take the next step.
"With our region full of talent that's constantly being recognised internationally, and with Doha Film Institute, Mexican IMCINE, the Indian NFDC and other global partners already coming to Sarajevo, this is the next logical step. We're excited to see what the next 20 years will bring."
Fresh approach
Jovan Marjanovic, head of industry at Sarajevo Film Festival, told ScreenDaily: "The initial idea of the short film scheme was to plant the idea of international co-production into young filmmakers.
"After years of doing that, we felt it was time to move forward and tackle a different angle – the co-production of feature films on an international scale."
The Sarajevo City of Film Fund will look to support production of up to eight features, for which the fund has already secured a budget of €400,000 over the next two years.
Two schemes - co-production and P&A - will each offer up to €60,000 per project in the form of a soft loan.
"The money is soft and is not intended to have a regional effect on spending here so there are no spending requirements like with certain regional funds," explained Marjanovic. "This is a fund that should open up new markets."
The fund will continue to be backed by Croatian consumer goods firm Atlantic Grupa and will also be supported by the European Commission's new international co-production programme in the framework of the new Creative Europe MEDIA programme. The Sarajevo Film Festival will administer the fund.
Attractive co-pro partners
"This fund will automatically make producers from this part of the world more attractive as co-production partners," said Marjanovic.
"There may be a Mexican, Indian or Canadian film with most of its funding in place and is looking for a co-production partner here. What was sort of impossible before is now possible because these producers will now be attractive minority partners."
He added that an advisory board and heads of the fund will be decided by the end of the year.
Further details will be revealed at the Regional Forum's MEDIA conference (Aug 20-22), which will run as part of Sarajevo's Industry Days. Click here for more on the Regional Forum.
The panel on international co-production comes as Eurimages looks to expand outside Europe and potentially grant associate membership status to non-Europeans, in order to make it easier for countries to co-produce through a reformed convention without having to go to the lengths of striking a bilateral treaty.