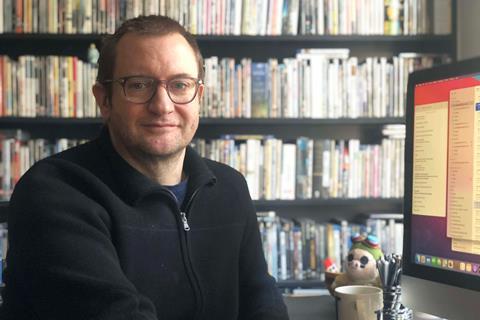 Sarajevo Film Festival has unveiled the line-up for CineLink Talks, the conference section of its industry programme CineLink Industry Days, which takes place from August 13-18.
This year's edition of CineLink Talks will host 21 panels and 59 speakers, spanning masterclasses, debates and seminars on topics such as gender equality through to film and drama series financing.
The panels will discuss topics including distribution challenges, new funding strategies for social impact films, and producing and releasing short films. The latter features senior execs from Vimeo and WeTransfer.
Good Chaos founder Mike Goodridge, who was a co-producer on Ruben Ostlund's Palme d'Or winner Triangle Of Sadness, will take part in a keynote interview, presented by Ace producers.
Film execs and creatives from Ukraine will also share their experience and outlook on producing during the war.
There is also a panel on co-production possibilities with the UK, Turkey and Italy, featuring BFI director of industry and international Neil Peplow, the head of Turkey's TRT Sinema Faruk Güven and Iole Maria Giannattasio from Italy's Ministry of Cultural Heritage and Activities and Tourism.
Telecom Serbia and BH Telecom will showcase their slates of upcoming drama series under the CineLink Drama umbrella, and there will also be a presentation of seven upcoming drama series in development from Southeast Europe.
Other speakers include Mads Mikkelsen, head of programme at CPH:DOX, and Sophie Bourdon, head of industry at Visions du Reel, who will participate in a panel on changes in the documentary industry; and Fatih Abay, the European Film Academy's new diversity & inclusion officer, and Kristina Börjeson, head of production at Film i Väst, who will take part in a discussion about inclusion policies in European funding bodies that will also feature the BFI's Peplow.
The CineLink Talks line-up:
Saturday, August 14
In Conversation With International Public Policy Makers: Can Film Contribute To Peace Promotion?
Sunday, August 14
Creating Content For The Young Audiences - Regional Perspective
CineLink Talks: Dealing with the Past (True Stories Market)
Who Will Pay For Social Impact Films? (Presented by Documentary Campus)
Monday, August 15
Cinelink Drama: Telecom Serbia Showcase
CineLink Talks | Docu Talents from the East
Docu Talents From The East Pitching Session
Ace Interview With Mike Goodridge, Good Chaos (Presented by ACE Producers)
Trend Or Tradition? Key Players Between Documentary Filmmakers And Audiences (Presented by Documentary Campus)
Tuesday, August 16
Cinelink Drama Pitch
Cinelink Drama: BH Telecom Showcase
New Co-Production Powerhouses: Evidence From United Kingdom, Turkey And Italy
How Contemporary Cinema Portrays Those Who Had To Flee? (Presented by UNHCR)
Trust Me, I'm A Documentary Filmmaker! (Presented by Documentary Campus)
Wednesday, August 17
Short Films: How Can We Keep Making Them? (Presented by Documentary Campus)
Thinking Inclusion Policy—Funding And The Industry Shift (Presented by MEDICI Training – The Film Funding Journey proposed by FOCAL)
Perspectives Of Serial Content Development And Production In The European Context
Producers Unite: Together, Are We Stronger?
Thursday, August 18
A Bubble Or A Boom? A Case Study Of Serbian Production Capacities And Infrastructure Development
Talents Sarajevo Pack & Pitch Public Project Pitching
Female Solidarity In Film Industry: How To Get There
Producing During The War – Ukranian Outloo