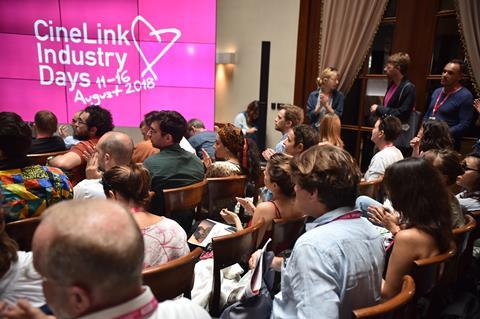 CineLink, the industry section of the Sarajevo Film Festival, has arranged three additional dates in September to help with absences from this week's hybrid event.
Projects in the co-production market, work-in-progress and drama strands of CineLink will be able to participate in online meetings on three extra individual days; September 16, 23 and 30.
The days have been added as a means of reducing the overload of festival activity happening this summer, and also to provide an option for industry professionals who are on holiday in August.
Participating projects can already arrange meetings with potential co-producers and sales agents for the September dates. The additional dates will have no effect on the CineLink awards, which will be distributed across the course of this week.
"We have decided to extend the effect of the market, because we have five festivals happening at the same time now, and people are finally taking their summer holidays," CineLink manager Masa Markovic told Screen.
Armin Hadzic, CineLink industry manager, said that future events are planned for throughout the year, as a way of lightening the load on the August festival.
"We have a workshop in April or May, where we can invite people who are interested in certain parts [of CineLink] and have two or three quality days with them," said Hadzic. "Then in Sarajevo [in August], when everything business-wise is already put in place, we can have people come to enjoy films, have gatherings and think tanks – much more pleasant, no rushing from films to meetings. To have is business-wise almost there before the festival."
Hybrid theory
This year's CineLink has around 300 attendees in Sarajevo in person, with another 400 joining online. The days are structured to accommodate this, with mornings dedicated to online meetings - including for those in town – and afternoons given to the meetings in the bar of the Hotel Europe, the CineLink location in previous years.
The split also covers the CineLink awards – two of the four prizes in the co-production market will be awarded in person, with the other two online.
"It doesn't matter anymore," said Hadzic of the distinction between online and physical meetings and events. "Two years ago it wouldn't have been possible – it would be madness, everyone would be mad to have a meeting on Zoom with a jury.
"Last year life changed for everyone. So if you can do your job online on Zoom, and not travel for two-and-a-half days on seven planes, you will do it."
The same applies to having online meetings while physically present at an event. "How many meetings are cancelled because you are stuck in traffic in Cannes or wherever?" said Hadzic. "We can meet each other at night, catch up; not have this 'you have to be here and sit on this chair and talk to me' – I think that's over."
The majority of jurors for the CineLink awards are not present in Sarajevo, including Ava Cahen, artistic director of Critics' Week in Cannes; and Michael Stutz, head of the Panorama section at the Berlinale.
The format involves jurors being sent a script, financing plan and pre-recorded pitch for each project, to view on their own schedule. Online meetings then give the jurors the opportunity to connect with the creative teams on a face-to-face level.
"They ask very concrete things about your script and your plans – you're not pitching your project again," said Markovic.
The CineLink market began on August 14, continuing until August 19; while the festival runs from August 13-20.