Disney's Finding Dory becomes the second biggest release of 2016 with $51.9m (£38.86m).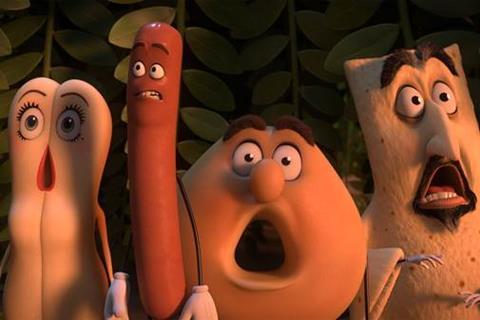 UK TOP FIVE
| Ranking | Film/Distributor | Weekend gross | Running total |
| --- | --- | --- | --- |
| 1 | Sausage Party (Sony) | $3.6m (£2.7m) | $3.6m (£2.7m) |
| 2 | Brotherhood (Lionsgate) | $2.64m (£1.98m) | $2.64m (£1.98m) |
| 3 | Finding Dory (Disney) | $2m (£1.49m) | $51.9m (£38.86m) |
| 4 | Bad Moms (Entertainment) | $1.55m (£1.16m) | $5.31m (£3.98m) |
| 5 | Suicide Squad (WB) | $1.04m (£780,000) | $43.4m (£32.46m) |
(Note - Dollar conversions are based on today's rates)
SONY
Sausage Party ended Finding Dory's two-week reign as the UK's number one as it debuted top of the box office.
Sony's adult animation bit into a strong $3.6m (£2.7m), including $535,000 (£400,000) in previews, from its 525 sites. Its Fri-Sun tally of $3.1m (£2.3m) would have also seen it land a clear number one.
The opening is almost double that of most previous original Seth Rogen comedies, including This Is The End ($1.86m/£1.39m from 407 sites) and Superbad ($1.98m/£1.48m from 402).
Sausage Party stands a great chance of repeating as the UK's number one this coming weekend, if it can hold off the likes of Ben-Hur and US hit Don't Breathe.
LIONSGATE
Though it may have missed out on the top spot, Brotherhood enjoyed an excellent start to its UK box office run.
Lionsgate's threequel scored a tremendous $2.64m (£1.98m) seven-day debut, including $1.3m (£970,777) in previews, from only 220 sites, surpassing Adulthood's $1.61m (£1.2m) bow from 157 sites.
Brotherhood achieved the highest site average of the Fri-Sun period with $6,120 (£4,579), ahead of Sausage Party's $5,855 (£4,381), and Noel Clarke's trilogy closer enjoyed a strong $12,017 (£8,992) site average across its opening week.
Also for Lionsgate, Mechanic: Resurrection fell 52% with a $329,000 (£245,930) second weekend for $1.53m (£1.15m), while Nine Lives dropped only 8% with $305,000 (£227,853) for $2.35m (£1.76m) after three weeks in play.
Nerve stands at $3.11m (£2.32m).
DISNEY
It may have been knocked off the top spot, but Finding Dory enjoyed a terrific sixth weekend as it barely dropped week-on-week with $2m (£1.49m).
Disney's latest Pixar offering is now up to an excellent $51.9m (£38.86m) and has become the second biggest release of 2016, behind stablemate The Jungle Book. It will soon overtake Inside Out ($52.4m/£39.2m) as the third biggest Pixar film.
Also for Disney, Pete's Dragon boosted 16% with a $620,000 (£464,223) fourth weekend for $5.7m (£4.25m) to date.
ENTERTAINMENT
Bad Moms enjoyed a minimal drop of 5% (excluding previews) as it partied to a $1.55m (£1.16m) second weekend to chart fourth.
Entertainment's comedy added more than $1.7m (£1.3m) across its opening Mon-Thurs period, and now stands at a solid $5.31m (£3.98m) in the UK. It should hit £5m by the end of this coming weekend at the very latest.
WARNER BROS
Falling almost 40%, Warner Bros' Suicide Squad sliced to a further $1.04m (£780,000) for a strong $43.4m (£32.46m) after five weeks in play.
Also for Warner Bros, War Dogs journeyed to a $932,000 (£697,000) second weekend for $3.4m (£2.55m) to date. It will end its run as one of director Todd Phillips' lowest UK results.
Café Society posted Woody Allen's fourth-best UK opening with $656,000 (£491,000) from its 186 sites, marking a solid $3,528 (£2,640) site average. It will expect to prosper midweek given its older-skewing audience.
Lights Out has now scared up $4.3m (£3.21m) after three weeks in play.
EONE
Boosting 6% in its seventh weekend, eOne's The BFG marched to an additional $934,000 (£699,155) for a whizzpopping $38.3m (£28.67m) to date.
Also for eOne, David Brent: Life On The Road fell more than 60% with a $250,000 (£187,005) third weekend for a disappointing $4.6m (£3.43m) so far.
UNIVERSAL
Falling only 27% in its sixth weekend, Universal's Jason Bourne shot to an extra $712,000 (£532,532) for $29.8m (£22.26m) to date. It will likely fall short of Ultimatum's $32.1m (£24m), but it's been an impressive run all the same.
Also for Universal, The Purge: Election Year fell 45% on its way to a $586,000 (£438,705) second weekend for $2.5m (£1.91m), while The Secret Life Of Pets reached $46.4m (£34.69m).
STUDIOCANAL
Swallows And Amazons rose 3% as it sailed to a $511,000 (£382,256) third weekend.
Studiocanal's adaptation crossed the £2m during its second Mon-Thurs period and has now grossed a healthy $3.34m (£2.5m).
FOX
Falling around 40%, Fox's Julieta added a non-final $280,000 (£209,340) for $1.1m (£824,463) after two weeks in play. It will soon overtake I'm So Excited!'s $1.16m (£870,000) final UK result.
Also for Fox, Morgan disappointed in the UK as it did in the US with a soft non-final $259,000 (£193,508) bow from its 397 sites, while Akira launched with $59,000 (£43,861) from its 30 sites.
Mike And Dave Need Wedding Dates and Ice Age: Collision Course stand at $3.3m (£2.5m) and $9.4m (£7.03m), respectively.
CURZON ARTIFICIAL EYE
Things To Come has recorded director Mia Hansen-Løve's best UK opening to date.
Curzon Artificial Eye's Berlinale Silver Bear winner posted a $67,000 (£50,363) bow, including previews, from its 19 sites. That surpasses Eden's $66,000 (£49,211) debut, achieved from more than double the sites at 49.
SODA PICTURES
Released in 25 sites through Soda Pictures, The 9th Life Of Louis Drax posted a $9,400 (£7,057) UK debut.
Also for Soda Pictures, The Childhood Of A Leader - taken from Metrodome - has grossed $185,000 (£138,464) after three weeks in play.
UPCOMING RELEASES
This week sees saturation releases for Paramount's Ben-Hur (opens Sept 7), Sony's Don't Breathe, Universal's Kubo And The Two Strings and Studiocanal's Hell Or High Water.
eOne's Captain Fantastic and Icon's Anthropoid both receive wide releases, while Park Circus's re-release of The Man Who Fell To Earth and Peccadillo Pictures' Theo And Hugo are among the films receiving limited releases.