Paramount's Ben-Hur is the week's highest new entry, thanks to previews, while Disney's Finding Dory hits £40m mark.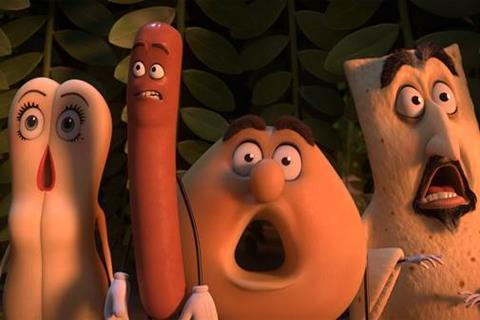 UK TOP FIVE
| Ranking | Film/Distributor | Weekend gross | Running total |
| --- | --- | --- | --- |
| 1 | Sausage Party (Sony) | $1.6m (£1.2m) | $7m (£5.3m) |
| 2 | Ben-Hur (Paramount) | $1.39m (£1.05m) | $1.39m (£1.05m) |
| 3 | Don't Breathe (Sony) | $1.33m (£1m) | $1.33m (£1m) |
| 4 | Bad Moms (Entertainment) | $1.2m (£900,076) | $7.6m (£5.74m) |
| 5 | Kubo And The Two Strings (Universal) | $1.12m (£841,913) | $1.12m (£841,913) |
(Note - Dollar conversions are based on today's rates)
SONY
Sausage Party defied all newcomers as it retained top spot at the UK box office for the second straight week.
Sony's adult animation fell 48% (excluding previews) on its way to $1.6m (£1.2m) for $7m (£5.3m) to date. As with other films in the market, Saturday was a slightly better hold compared to Sunday due to the good weather.
Sausage Party has overtaken the final UK results of most previous Seth Rogen-scripted comedies, with Superbad's $8.6m (£6.5m) next in its sights.
Also for Sony, Don't Breathe creeped to a UK debut of $1.33m (£1m) from its 446 sites to chart third.
Based solely on Fri-Sun takings, it would have charted second. The original horror still enjoyed the highest Fri-Sun site average in the top 15 at $2,977 (£2,422) and it will now hope that its strong reviews will see it avoid the fast-burn nature of most genre films.
PARAMOUNT
Thanks to its previews, Ben-Hur is the week's highest new entry charting second.
Paramount's remake journeyed to a predictably unremarkable non-final $1.39m (£1.05m), including $352,000 (£265,000) from Weds-Thurs, from its 510 sites. Its Fri-Sun tally of $1.04m (£785,000) would have seen it chart fifth.
The opening marks the lowest for director Timur Bekmambetov's English-language outings.
ENTERTAINMENT
Bad Moms enjoyed an excellent third weekend as it dropped only 22% with $1.2m (£900,076) to remain in fourth.
Entertainment's raunchy comedy is now up to $7.6m (£5.74m) in the UK, and should soon surpass Bad Neighbours 2's $8.5m (£6.4m) result.
UNIVERSAL
Kubo And The Two Strings managed to surpass Finding Dory as the UK's biggest family offering this weekend.
Universal's latest Laika release sailed to a $1.12m (£841,913) debut from its 520 sites to chart fifth. That does however mark the lowest opening for a Laika film in the UK, behind ParaNorman's $1.85m (£1.39m) bow from 480 sites.
Also for Universal, Jason Bourne shot to a further $304,000 (£229,204) for $30.2m (£22.74m) after seven weeks in play, while The Secret Life Of Pets has now amassed $46.3m (£34.88m).
The Purge: Election Year stands at $3m (£2.25m) and will end its run as the lowest-grossing outing of the series to date.
DISNEY
Finding Dory has become the second release of 2016 to hit the £40m mark at the UK box office.
Disney's latest Pixar offering fell more than 50% on its way to a $940,000 (£707,607) seventh weekend for a terrific $53.2m (£40.08m) to date. It is now the third biggest Pixar film behind Toy Story 2's $58.8m (£44.3m), not including its 3D re-release.
Also for Disney, Pete's Dragon fell 57% with a $268,000 (£201,751) fifth weekend for $6.1m (£4.56m) to date.
STUDIOCANAL
Hell Or High Water has recorded director David Mackenzie's best-ever UK debut.
Studiocanal's well-received crime drama shot to $732,000 (£551,771) from its 265 sites for a $2,760 (£2,082) site average, surpassing Starred Up's $656,000 (£494,981) bow from 316 sites.
With decent midweek results likely, Hell Or High Water should have no trouble passing that film's $2m (£1.5m) result.
Also for Studiocanal, Swallows And Amazons has amassed $3.7m (£2.79m) following a $174,000 (£130,950) fourth weekend.
LIONSGATE
Following its blistering opening week, Brotherhood posted a $618,000 (£465,031) second weekend, enjoying the fourth-best site average of the top ten.
Lionsgate's threequel is now up to $3.9m (£2.91m) and should soon overtake Adulthood's $4.4m (£3.35m) result as the highest-grossing outing of the series.
Also for Lionsgate, Nine Lives and Mechanic: Resurrection stand at $2.5m (£1.92m) and $1.8m (£1.33m), respectively.
EONE
Falling more than 50% in its eighth weekend, eOne's The BFG marched to $439,000 (£330,482) for a whizzpopping $38.8m (£29.2m) to date, and still won't have lost hope of reaching £30m.
Also for eOne, Captain Fantastic posted a decent UK bow of $372,000 (£280,346), including $81,000 (£60,926) in previews, from its 106 sites, resulting in a $3,513 (£2,645) site average.
WARNER BROS
Falling 60% in its sixth weekend, Warner Bros' Suicide Squad sliced to an extra $410,000 (£309,000) for $44.1m (£33.19m). It's currently the tenth biggest superhero film of all time in the UK, behind Spider-Man 3's $44.6m (£33.55m).
Also for Warner Bros, War Dogs added $359,000 (£270,000) for $4.3m (£3.21m) after three weeks in play, while Café Society fell almost 50% on its way to a $335,000 (£252,000) second weekend for $1.4m (£1.05m) so far.
ICON FILM DISTRIBUTION
Given the busy market at the moment, Icon Film Distribution's Anthropoid had a solid start to its UK run with a $302,000 (£227,137) debut from its 132 sites.
That marks a $2,285 (£1,721) site average and it will hope to make an impact midweek given its older-skewing audience, as weekends are only going to get busier with the arrival of Bridget Jones's Baby and Blair Witch.
FOX
After three weeks in play, Fox's Julieta stands at $1.4m (£1.05m), currently making it director Pedro Almodóvar's seventh-best UK result.
Also for Fox, Morgan has grossed $455,000 (£342,428) after ten days in play.
CURZON ARTIFICIAL EYE
In its second weekend, Curzon Artificial Eye's Things To Come grossed a non-final $42,000 (£31,472) for $186,000 (£139,723) to date.
PECCADILLO PICTURES
From its four sites through Peccadillo Pictures, Theo And Hugo posted a UK debut of $7,700 (£5,793).
UPCOMING RELEASES
This week sees saturation releases for Lionsgate's Blair Witch (opens Sept 15), Universal's Bridget Jones's Baby and Warner Bros' The Infiltrator.
Studiocanal's The Beatles: Eight Days A Week - The Touring Years and Vertigo Releasing's Hunt For The Wilderpeople both receive wide releases, while Curzon Artificial Eye's The Clan is among the films receiving a limited release.