EXCLUSIVE: The Reef 2 team band for adaptation of Jules Verne novel.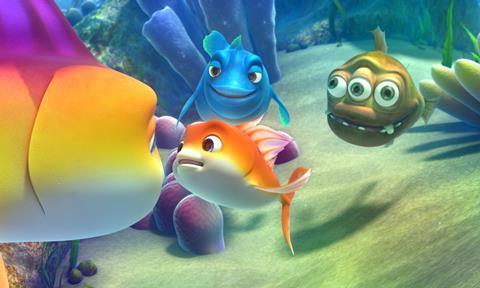 London-based sales outfit SC Films International, which specialises in family animation, has begun production on its latest project, Around The World In 80 Days, and will launch the title in the market at Cannes.
The animated feature is a loose adaptation of Jules Verne's classic novel, which has been adapted for the big screen on numerous occasions, including notably in 1956 starring David Niven, and in 2004 starring Jackie Chan.
The latest version will be a 3D underwater adventure based on the characters from SC Films' previous productions The Reef: Shark Bait and The Reef 2: High Tide [pictured].
In the new film, a young fish sets off on an adventure guided by a wise old turtle. Along the way, he must learn to trust his instincts and his newly formed friendships to navigate his way through the chills of the Atlantic, the ships of the Suez Canal and crocodiles in China.
SC Films' Simon Crowe will produce the feature with Dan Chuba and Mark Dippé of the Animation Picture Company, whose credits include The Reef 2 and Kyung Ho Lee's Outback.
Dippé will also co-direct the feature with Taedong Park. Stephen Meier has penned the screenplay. Delivery is expected for Q3 2018.
Simon Crowe, CEO of SC Films commented: "This is one of the all time great action adventure stories. Setting the film underwater will add a new twist to the adventure. I believe the film will appeal to audiences worldwide."
SC Films' slate also includes Wish 3D (Q3 2017), White Fang 3D (Q4 2017), Pachamama 3D (Q3 2018), and Winter's Dream.