African Film Heritage Project to restore initial selection of 50 titles.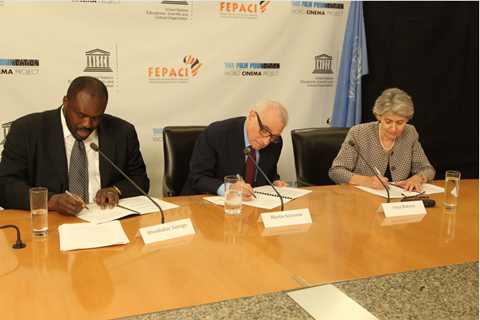 Martin Scorsese's The Film Foundation has signed a letter of agreement with UNESCO and the Pan African Federation of Filmmakers (FEPACI) to restore African films.
The agreement formalises their existing partnership on the African Film Heritage Project (AFHP) to preserve African cinema.
AFHP will locate and restore an initial selection of 50 African films, identified by FEPACI's advisory board of African archivists, scholars and filmmakers.
After initially launching in February, the AFHP completed its first restoration, the 1969 film Soleil O directed by Med Hondo, which premiered in Cannes last month.
An extensive survey to locate the best existing film elements for each of the 50 films will be conducted in African cinematheques and archives around the world.
Following restoration, the films will be distributed worldwide at festivals, museums and universities, and will be made available via digital platforms and other formats.
Scorsese said: "I'm proud to be partnering with FEPACI and UNESCO on this critically important project, and I'm excited to have already restored the first film of the programme. I believe that cinema is the perfect way to open up one's mind and curiosity and share different cultures with people around the world. Working together, we can help ensure that Africa's richly diverse cinematic heritage will be preserved, restored, and made available."
Irina Bokova, the director-general of UNESCO (pictured at right), added: "This project will contribute to enhancing Africa's cultural heritage and improving the global understanding of the continent's past and its rich cultural diversity. Fast-evolving technology has offered safeguarding cinema history new possibilities and new challenges."
Aboubakar Sanogo, North American regional secretary of FEPACI (pictured at left), said: "We at FEPACI come to you standing on the shoulders of the founders of our continent's independence and, in cinema, the founders that have laid the groundwork and who are responsible for the creation of FEPACI. Our task consists in pursuing their work by creating the best possible climate and institutions for the prosperity and success of African cinema."
He continued: "This partnership will work to bring African cinema into the field of visibility and audibility in order to reclaim and reconquer the continent's dignity and place in the world. The films that will be restored will show her beauty, her complexity, her doubts, her uncertainties, and of course, her hopes, aspirations and attitudes toward life on Earth and beyond."