Two Brian Cox-starrers and a documentary focus on female directors are amongst this year's programme of films.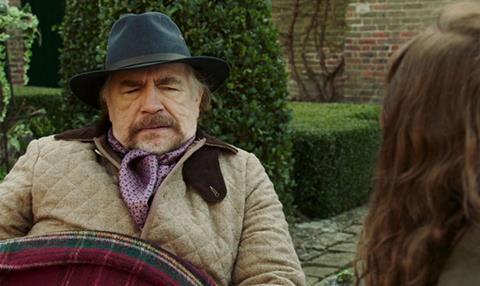 Scroll down for list in full
The Edinburgh International Film Festival has unveiled the Scottish selection for its 70th edition (June 15-26).
As previously announced, the festival will open with the world premiere of Tommy's Honour, starring Peter Mullan and Jack Lowden, and will close with the world premiere of Whisky Galore!, starring Gregor Fisher, James Cosmo and Eddie Izzard.
Veteran actor Brian Cox has two features in the selection, János Edelényi's comedy The Carer [pictured] and Jon Cassar's western Forsaken, in which he stars alongside both Kiefer and Donald Sutherland.
Scottish actor Rose Leslie will star alongside Ray Liotta and Gina Rodriguez in family drama Sticky Notes, from director Amanda Sharp.
Angus Macfadyen, known for playing Robert the Bruce in Braveheart, makes his directorial debut with Macbeth Unhinged, a black-and-white retelling of the Shakespearian tragedy.
This year's Scottish Documentary Institute's Bridging the Gap series will spotlight women, with four features directed by women selected: Lucie Rachel's Where We Are Now, Lindsay Brown's Swan, Wilma Smith's The Review, and Natalia Kouneli's Silent Laughs.
There will also be special screenings of Danny Boyle's Trainspotting – celebrating the film's 20th anniversary, with a sequel currently in the works – and a 4k restoration of Highlander, attending by star Clancy Brown.
The festival will also feature television in the shape of BBC Alba Gaelic show Bannan, and the world premiere of Niall McCann's documentary Lost In France, charting the rise of Glasgow-based independent record label Chemical Underground.
The selection
Moon Dogs, dir. Philip John
Neither Wolf Nor Dog, dir. Steven Lewis Simpson
Sticky Notes, dir. Amanda Sharp
Macbeth Unhinged, dir. Angus Macfadyen
The Carer, dir. János Edelényi
Forsaken, dir. Jon Cassar
A Reykjavik Porno, dir. Graeme Maley
Pale Star, dir. Graeme Maley
The Rezort, dir. Steve Barker
Pikadero, Ben Sharrock
The Islands And The Whales, dir. Mike Day
The Correspondence, dir. Giuseppe Tornatore
The Olive Tree, dir. Iciar Bollain
Seat In Shadow, dir. Henry Coombes
Bridging the Gap
Where We Are Now, dir. Lucie Rachel
Swan, dir. Lindsay Brown
The Review, dir. Wilma Smith
Silent Laughs, dir. Natalia Kouneli