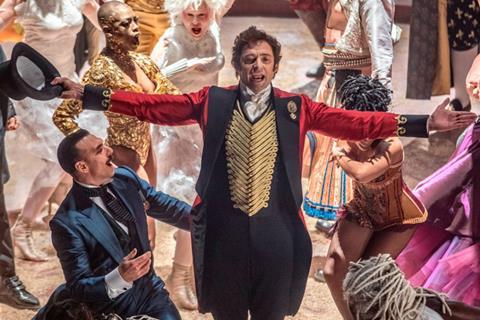 20th Century Fox, Disney and Curzon Artificial Eye were among the big winners at the Screen Awards 2018, which recognises excellence in UK distribution, exhibition, marketing, publicity and brand partnerships.
Scroll down for full list of winners
The prizes were handed out at the Ballroom Southbank in London tonight (Nov 29). Comedian Adam Buxton hosted the ceremony for the first time.
20th Century Fox won distributor of the year award for a busy 2018 during which it released Deadpool 2, The Greatest Showman, Three Billboards Outside Ebbing, Missouri, Love, Simon and The Shape Of Water.
The studio also picked up theatrical campaign of the year – 200 sites and over for The Greatest Showman, which has made more than £50m at the UK box office, and online campaign of the year for Love, Simon.
This year saw Curzon Artificial Eye's Apostasy (directed by Dan Kokotajlo) win Screen's inaugural best British film award, voted for in an online poll by readers from a Top 10 list selected by Screen International's critics.
Curzon also won specialist film campaign of the year for the same film, and was highly commended in the 199 sites and under theatrical campaign category for its release of Cold War.
That category was won by Altitude Film Distribution and Way To Blue for animation Loving Vincent. Altitude also won best trailer of the year, for Beast.
This year also saw the introduction of the Outstanding Contribution to British Film achievement award. As previously announced, Working Title Films was the inaugural recipient, with Working Title co-chairman Tim Bevan presented with the award by Mary Queen Of Scots director Josie Rourke.
Disney won three awards on the night, taking home the prestigious marketing team of the year prize, premiere of the year for Star Wars: The Last Jedi and the brand partnership award for Black Panther with Clark's Originals.
Organic once again won PR team of the year, with Disney highly commended in the category.
The cinema of the year awards went to The Picture House Uckfield (for 24 screens and under) and Odeon Luxe, Edinburgh West (for 25 screens and over).
Picturehouse Cinemas' 'The Enchanted Screen' won cinema marketing campaign of the year, while More2Screen and Nimax Theatres won the event cinema campaign of the year for Everybody's Talking About Jamie Live.
Finally Intermission Film's Lucy Bond won the rising star category, and AllCity Media took home the highly competitive poster of the year prize for The Death Of Stalin.
As previously announced, Peter Hoare, Director of WTW Scott Cinemas, was awarded the exhibition achievement award.
Sponsors for the evening included: Eikon, Motion Picture Solutions, Movio, Powster, UK Cinema Association, Vista, Veezi and charity partner Medicinema.
The full list of winners
Online Campaign of the Year
Love, Simon - 20th Century Fox
Premiere of the Year
Star Wars: The Last Jedi - The Walt Disney Studios
Poster Design of the Year
The Death Of Stalin - AllCity Media
Brand Partnership of the Year
Marvel's Black Panther and Clarks Originals - Disney Media Sales & Partnerships
Event Cinema Campaign of the Year
Everybody's Talking About Jamie Live - More2Screen & Nimax Theatres
Trailer of the Year – sponsored by Powster
Beast, Altitude Film Distribution
PR Team of the Year
Organic
Highly commended - The Walt Disney Studios
Cinema Marketing Campaign of the Year – sponsored by Movio
The Enchanted Screen - Picturehouse Cinemas
Cinema of the Year – from a company with 24 screens or under – sponsored by Veezi
The Picture House Uckfield
Highly commended - Hebden Bridge Picture House
Cinema of the Year – from a company with 25 screens or over – sponsored by Vista Entertainment Solutions
Odeon Luxe, Edinburgh West
Highly commended - Crouch End Picturehouse
Exhibition Achievement Award – sponsored by UK Cinema Association
Peter Hoare, Director of WTW Scott Cinemas
Rising Star
Lucy Bond - Intermission Film
Specialist Film Campaign of the Year
Theatrical Campaign of the Year – 199 Sites and Under
Loving Vincent - Altitude Film Distribution & Way To Blue
Highly commended - Cold War - Curzon
Theatrical Campaign of the Year – 200 Sites and Over – sponsored by Motion Picture Solutions
The Greatest Showman, 20th Century Fox
Best British Film of the Year
Marketing Team of the Year
Outstanding Contribution to UK Film
Distributor of the Year – sponsored by EIKON
20th Century Fox
Highly commended - Curzon