Screen International and British Council present Screen's Stars Of Tomorrow tonight at an intimate industry dinner.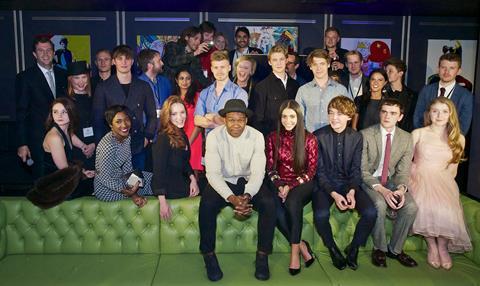 Following Friday night's unveiling of Screen International's 2015 Stars of Tomorrow, presented for the first time as part of the BFI London Film Festival's programme of events, Screen is joining with British Council to present the Stars tonight at an invitation-only international industry dinner at Kettner's. The event is supported by the British Council and the Casting Society of America (CSA).
Briony Hanson, Director of Film at the British Council, said: "Creating opportunities for film-makers by connecting them with international counterparts is a core part of the British Council's film programme, so we're delighted to be partnering with Screen International and the LFF for a second year on an event designed to do just that. We firmly believe that Stars of Tomorrow is a really important initiative and we're glad to do our bit to help champion these up and coming star names internationally."
Fionnuala Halligan, Screen International reviews editor and curator of Stars of Tomorrow, said: "If the actors and directors featured in Stars of Tomorrow don't have a film in the BFI London Film Festival this year – and many of them do – it will soon be their natural home. And as their work finds audiences overseas, the British Council will be their support and partner, so it's fantastically helpful that we can start this process tonight at Kettner's with thanks to British Council for all of their encouragement to the Class of 2015."
Matthew Lessall, vice president of the CSA, said: "This is the CSA's second year participating with Stars of Tomorrow. It is a natural synergy to bring three outstanding casting directors ­– Monika Mikkelsen, Laura Rosenthal and David Rubin, all with films at the festival ­– from LA and New York to London to meet these actors, producers and writers as casting plays such a vital role in the film-making process."
The Stars of Tomorrow expected to attend tonight include Naomi Scott, cast last week as the 'pink' Power Ranger in Lionsgate's big-screen reboot; The Lobster's Jessica Barden; Faye Marsay, who is currently shooting Love, Nina with Helena Bonham Carter; and Joe Alwyn, the star of Ang Lee's Billy Lynn's Long Half-Time Walk. Film-makers in attendance include the writer Charlie Covell, whose Burn Burn Burn premieres at LFF this week, and Jorn Threlfall, whose short film Over is competing at the festival.
Industry guests will include casting directors Rosenthal (Carol, Chicago, Kill Your Darlings, The Kids Are Alright), Rubin (Trumbo, Wild, Gravity), Mikkelsen, director of features castings at Paramount Pictures, and the CSA's Lessall, former head of features casting at 20th Century Fox.
International guests include Locarno Film Festival artistic director Carlo Chatrian, Jane Williams, head of the Dubai Film Connection, Dublin Film Festival head Grainne Humphries, writer-director Jonas Cuaron, Hengameh Panahi of Celluloid Dreams and UK casting directors Lucinda Syson and Kahleen Crawford.
The dinner will be preceded by a private meeting between the US casting directors and the actors.
This is the 12th year that Screen International has curated its UK Stars of Tomorrow. Talents highlighted in the past includes Benedict Cumberbatch, Eddie Redmayne, James McAvoy, Carey Mulligan, Emily Blunt, John Boyega, Andrea Arnold and Robert Pattinson.