Even a five-country co-production such as The Lobster isn't the logistical nightmare you'd imagine, producer Ed Guiney of Element Pictures told the Screen Film Summit during today's Show Me The Money! panel.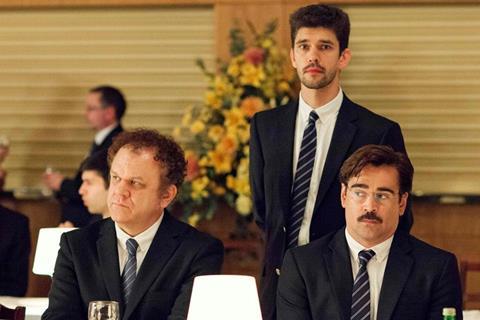 Even with four producers, five co-producers and four executive producers, adding up to 18+ sources of finance, without including Eurimages, Guiney says there weren't too many cooks in the kitchen.
"We developed it and it was clear we were the lead producer, everyone respects that. You set out to support that lead producer to get on with their film. Lots of credits doesn't have to mean too many voices in the room. And with so many financiers, no one has enough money to jump up and down and impose their will.
"The spirit of European co-production most of the time is congenial and mutually respectable," he continued. "The ethos of it isn't to have lots of voices in the room, but of course one of the benefits is you do have lots of voices, if they are channeled and well informed and well considered opinions, they are very useful."
The project came to Element when Guiney's London-based colleague Lee Magiday made contact with Greek director Yorgos Lanthimos after his lauded Greek language debut Dogtooth, and the company was immediately drawn to working with him on his next project The Lobster.
The fact that the project is "set in a kind of parallel world, easily inhabited by people of many nationalities and colours and creeds" was a bonus, Guiney said. Ceci Dempsey was also on board as UK-based producer.
The project was pitched by Magiday and Lanthimos at Rotterdam's CineMart in 2013. "We had a lot of interest from European producers/distributors. Two that stuck were Haut et Court in France and Lemming Film in the Netherlands."
The film shot in Ireland with post-production done in the UK, Netherlands and France. "That's a pain in the ass to jump between countries…but we are getting decent money from those people, so you play by the rules," Guiney said.
Changing face of sales
For sales company Protagonist, one challenge was that The Lobster was "a film that has no comps", as Protagonist CEO Mike Goodridge said.
He continued, "It's a film that required Yorgos building an amazing cast. CAA was very helpful in getting on board the project, this incredible cast came together, that worked wonders for us in this reactive business which is international sales."
The film, budgeted at €4.3m, was "exactly the right budget for the film that it is," Goodridge said, adding that he sees projects with similar prospects and more 'signature' directors pitched at the €10m mark when they'd be smarter at a €5m budget.
He also said that producers should be realistic about their audience potential, and budget accordingly and also not be afraid to make films that are primarily for the home market: "Smaller British films should be made with the UK at their core. Producers come to us to ask about estimates, and it's hard to give estimates on a film that has no value in Taiwan or Brazil."
Goodridge noted that sales companies are "at a crossroads in the way they do business". The idea of simply looking at sales estimates territory by territory is now "outmoded", he said.
"Everything is changing so fast. At the AFM last month, Netflix and Amazon were being more aggressive…they are very cash rich, they are retail companies and they have a lot of money to spend, that will take the place of DVD and some of the ancillaries we've lost," he added.
BFI's international reach
Isabel Davis, head of international at the BFI, said the organisation is keen to work with more minority co-productions after testing the waters with The Lobster.
"We don't have the size of coffers as some of our European neighbours. But there are so many reasons to work with the UK," she said.
On The Lobster, she praised Element for keeping the BFI "in the loop creatively". "We felt listened to," she added.
Davis said the UK's most active partners continue to be Ireland and other European territories, plus those that share the English language such as Australia, New Zealand and Canada. A territory like China is "a longer-term opportunity," she said.
"As a theatrical market it's going to overtake America, but theatrical isn't the only market. Ancillary [in China] is worth practically nothing." But she says it has "huge potential" although "not for every single film," more for an audience-friendly British film such as Paddington.