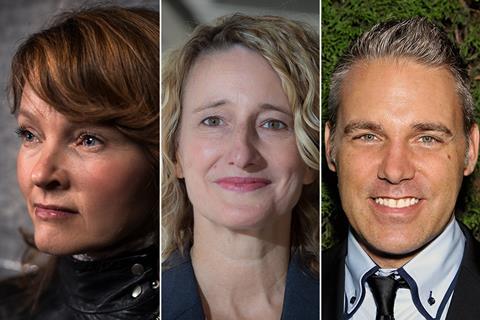 Update: This Q&A has now taken place.
Original story: As the international industry continues to come together to navigate this unprecedented global crisis, Screen remains committed to providing the best coverage we can and exploring new ways of bringing the industry together for valuable discussion and insights.
With that in mind, and working alongside our new Market+ online platform, Screen is launching a new series of webinar panel discussions and interviews via Zoom called Talks.
The first of these Talks is scheduled for this Thursday April 9 at 16:00 BST, and will explore the journey that film festivals have been taking in response to the Covid-19 pandemic as they adapt themselves from physical to virtual events.
Tricia Tuttle, director of BFI Festivals including LGBTIQ+ festival Flare, Tine Fischer, founder and director of CPH:DOX, and Jaie Laplante, executive director and director of programming at Miami Film Festival, will join Screen editor Matt Mueller for a free live discussion exploring the challenges and opportunities encountered as each navigated the transition of their latest editions into virtual events.
The 30-minute discussion will be followed by a live Q&A in which users will be able to ask questions to the panellists; we can also take advance questions here and will select the best ones to ask.
The 'moving film festivals online during Covid-19' talk will also be posted on Screendaily.com afterwards for anyone who isn't able to watch it live.
Talks will be regularly scheduled going forward as Screen looks to serve the international industry in these challenging times by exploring a full range of urgent conversations across all sectors including production, sales, distribution, exhibition, festivals, talent and more.
We would love to hear your feedback along the way – including ideas for potential future Talks – so please send our way here.
Panellists
Tricia Tuttle is in her second year as Director of BFI Festivals. She was appointed the position following her role as Artistic Director of the 62nd Edition of the BFI London Film Festival in 2018 and five successful years as Deputy Head of Festivals at BFI, including BFI Flare and BFI London Film Festival. Moving from North Carolina in 1997 to complete a joint MA at BFI and Birkbeck, University of London in Film and TV Studies, Tricia's passion for film has seen her work as a programmer, lecturer, writer and journalist.
Tine Fischer is the Managing & Artistic Director of CPH:DOX. Under her leadership, the festival has grown to become one of the leading documentary film festivals in the world with a strong focus on the interconnection between art, science and social impact. The festival has a number of profiled market platforms, including the pitching forum CPH:FORUM and the training program CPH:LAB. In 2019 she was appointed CEO of the festival group, Copenhagen Film Festivals.
Jaie Laplante joined Miami Dade College's Miami Film Festival in 2010 as Executive Director & Director of Programming, leading the Festival's growth from its 28th annual edition onwards into its fourth decade. Additionally, he directs and oversees MDC's Tower Theater Miami, one of the oldest and most celebrated year-round art cinemas in the US. Previously, Mr. Laplante served as Director of Programming for Miami Short Film Festival (2008-2009) and as Co-Director of Miami Gay & Lesbian Film Festival (2003-2006).