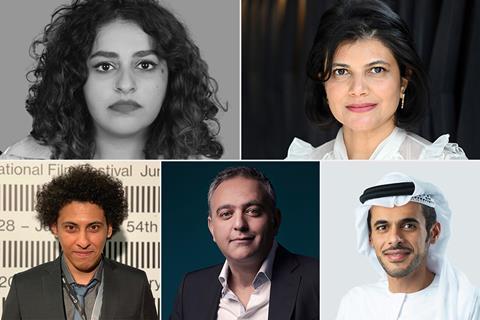 The latest in our ScreenDaily Talks live Q&A series will take place on Wednesday November 17 at 14:00 GMT (17:00 KSA) and will look at Saudi Arabia's growing film business on the eve of the inaugural edition of the country's Red Sea International Film Festival (RSIFF).
The speakers are RSIFF managing director Shivani Pandya Malhotra, renowned Egyptian producer and head of Cairo-based production house Film Clinic Mohamed Hefzy, pioneering Saudi producer, filmmaker and screenwriter Mohammed Alhamoud, Saudi director and screenwriter Sara Mesfer, and Mohamed Al Hashem, the Saudi head of lifestyle and entertainment company Majid Al Futtaim, who has spearheaded the launch of Vox Cinemas in the country.
The festival, running December 6-15 in the Red Sea port of Jeddah, will open four years after the Saudi Arabian Ministry of Culture lifted its 35-year ban on cinema-going. Since then, theatres have sprung up across Saudi Arabia with projections of 2,500 screens by 2030. The country's reputation as an international shooting destination is also growing and a local film and TV industry has taken root.
The launch of RSIFF aims to be a landmark moment for Saudi Arabia and the country's ambitions to become a major force in cinema, regionally and internationally.
This talk will explore what to expect at RSIFF's inaugural edition and how the event's launch fits in with the latest developments in Saudi Arabia's burgeoning film and TV industry.
The moderator is Melanie Goodfellow, Screen International' s senior correspondent, Europe & Middle East.
The 60-minute discussion will include a live Q&A in which the audience will be able to ask questions to the panellists; we can also take advance questions at orlando.parfitt@screendaily.com.
The webinar will be available to watch on Screendaily.com after it has taken place.
The speakers
Shivani Pandya Malhotra is the managing director of the Red Sea International Film Festival (RSIFF). Prior to her RSIFF role, she was a core member of the team that launched Dubai Media City and went on to spearhead the Dubai International Film Festival (DIFF) and Gulf Film Festival (GFF) in the role of managing director. Through her consulting and events agency NearEast Entertainment, she has also worked with Abu Dhabi film production and media company Image Nation, AlUla, Artists for Peace and Justice and the Sharjah Children's Festival.
Mohamed Hefzy is one of Egypt's best known independent film producers and screenwriters. He works under the banner of Cairo-based production house Film Clinic. His producer credits span a myriad of award-winning films including Microphone, Rags And Tatters, Sheikh Jackson, Clash,Amira and Feathers and as well as the Netflix series Paranormal. He is teaming with Saudi Arabia's King Abdulaziz Center for World Culture, known as Ithra on local production Sea Of Sands and developing Egyptian project Bullets & Bread with the support of RSIFF's Red Sea Lodge project incubator. Hefzy is also the president of Cairo International Film Festival.
Mohamed Al Hashemi is the Saudi head of UAE-based lifestyle and entertainment company Majid Al Futtaim and leads a team of more than 1,300 employees. During his tenure, he has introduced VOX Cinemas to Saudi Arabia and helped shape the entertainment industry in the country. The World Economic Forum recently selected Mohamed to join the Young Global Leaders class of 2021, in recognition of his achievements and innovation in the field of business.
Sara Mesfer is a Saudi director and screenwriter. She is one of the rising stars of Saudi Arabia's burgeoning independent filmmaking scene. Her first and second solo shorts Sadeya Left Sultan and The Girls who Burned The Night have been feted at home and internationally. She also worked on the female-focused omnibus features Becoming andQuareer, which are due to world premiere at the Cairo International Film Festival and The RSIFF respectively.
Mohammed Alhamoud is a Saudi producer, director and screenwriter. He was a co-founder of the Talashi Film Collective, which was dedicated to making short films to screen in film festivals in neighbouring territories a decade before cinemas opened in the country. In 2017, he founded the Riyadh-based production house Last Scene Films, which is specialised in producing independent arthouse features, documentaries, and short films. Its debut feature Last Visit by Abdulmohsen Aldhabaan premiered at the East of the West Competition in the Karlovy Vary International Film Festival in 2019 and won the jury prize at Marrakech International Film Festival that same year. He is currently developing Hussam AlHulwah's feature Four Acts of Disruption.
The talk is sponsored by the Red International Sea Film Festival.