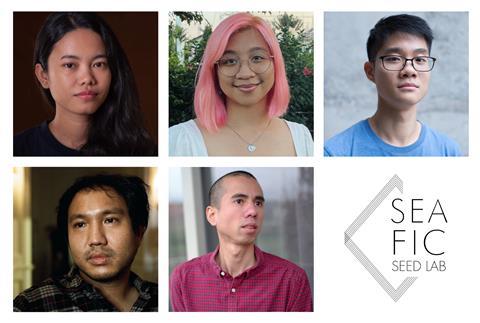 SEAFIC (Southeast Asia Fiction Film Lab) has launched a new script and development lab, Seed Lab, which aims to help promising short filmmakers from Southeast Asia prior to the development of their first features.
The first edition will be held in two sessions – the first taking pace online December 4-10 and the second in person in Phuket, Thailand, in early April 2022.
Five filmmakers have been selected for the inaugural lab from Cambodia, the Philippines, Singapore, Thailand and Vietnam. All five have had short films screen and win awards at international film festival around the world (see full details below).
SEAFIC is partnering on the programme with Produire au Sud, the training workshop that is part of the Festival of 3 Continents in Nantes, France. Produire au Sud is also a partner on the SEAFICxPAS producers' lab, which runs alongside SEAFIC's main script lab.
SEAFIC has also announced five industry veterans as lab mentors, headed by directing mentor Juho Kuosmanen, who won the Cannes Grand Prix this year for Compartment No. 6.
The other mentors include producer Isabelle Glachant (11 Flowers), who also founded sales agent Asian Shadows; Produire au Sud head and short film director Guillaume Mainguet (Vincent Before Noon); script consultant Franz Rodenkirchen, who works with Script Circle and SEAFIC; and SEAFIC executive director and producer Raymond Phathanavirangoon (Apprentice).
SEAFIC Seed Lab is supported by the Embassy of France in Bangkok, Institut Français, Goethe-Institut Thailand and Purin Pictures as well as the partnership of Produire au Sud.
SEAFIC SEED LAB 2021 PARTICIPANTS:
SAN Danech (Cambodia) – her first short film, A Million Years (2018), won best Southeast Asian short at Singapore Film Festival and the Arte Award at Kurzfilm Hamburg. Sunrise In My Mind (2020), her second short, premiered in Busan Wide Angle Short competition and screened at Singapore Film Festival shorts competition and Berlin Critics' Week, among others.
Sam MANACSA (Philippines) – after her first short I Wanted To Say Hello So I Wrote A Song (2015), her second, If People Such As We Cease To Exist (2016), was selected in Clermont-Ferrand Competition as well as Kurzfilmtage Winterthur and SeaShorts competition.
Shoki LIN (Singapore) – his first short film, Changi (2017), won best picture at Singapore's National Youth Film Awards. After another short film Joss (2018), Chasing Paper (2018) was in Busan Wide Angle Short competition. His thesis short film Adam (2019) premiered at Cannes Cinefondation competition and won prizes worldwide. His latest, Newborn (2020), was the opening short film at Singapore International Film Festival.
Tulapop SAENJAROEN (Thailand) – Nightfall (2016), co-directed with Anocha Suwichakornpong, screened at Locarno and Oberhausen. His solo work A Room With A Coconut View was shown in Locarno and Rotterdam and won at Kurzfilmtage Winterthur. People On Sunday (2020) premiered in Rotterdam, while Squish! (2021) was in Locarno Leopards of Tomorrow. Notes From The Periphery (2021) screened at Montreal Festival du Nouveau Cinema and will screen at Singapore Film Festival.
Viet VU (Vietnam) – his debut fiction short, Ant-Man (2018), won the Purin Award at SeaShorts and was in the Singapore Film Festival shorts competition. An Act Of Affection (2020) premiered in Locarno Leopards of Tomorrow, while The Eternal Springtime (2021) was screened at Rotterdam Tiger Shorts Competition.