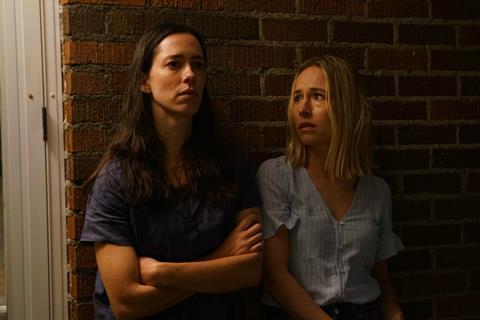 After the traditional sluggish start to a Sundance market, a major on-site deal has livened things up as it emerged on Sunday night (26) that Searchlight Pictures was closing a deal for worldwide rights to Rebecca Hall horror film The Night House.
Sources had not confirmed the deal amount at time of writing. The Midnight selection had been on buyers' radars heading into Park City and generated early heat following its premiere on Friday night (24).
At time of writing a growing number of titles were understood to be in play, although the overall mood among buyers – who are a tough crowd in any given year – remained that there very few acquisition titles displayed broad commercial appeal.
Nonetheless the consensus heading into Monday seemed to be that more, albeit smaller, deals were likely to follow in short order and that the streamers would get their wallets out.
As Monday approached, Max Barbakow's U.S. Dramatic Competition selection Palm Springs was one of several attracting the attention of buyers. Others included Eugene Kotlyarenko's Spree in Next, Alan Ball's Uncle Frank in Premieres, Radha Blank's The 40-Year-Old Version in U.S. Dramatic Competition, and U.S. Documentary Competition entries The Fight from Elyse Steinberg, Josh Kriegman, and Eli Despres, and Boys State from Jesse Moss, Amanda McBaine, among others.
Another film that has impressed is music industry abuse documentary On The Record. It is the controversial title of Sundance 2020 and remains on the market since Oprah Winfrey removed her executive producer credit and pulled it from Apple TV+, with whom she has a deal, prior to the festival, citing "inconsistencies" in the film.
Kirby Dick and Amy Ziering directed the documentary in which record executive Drew Dixon alleges sexual harassment against men including the mogul Russell Simmons. Winfrey has vehemently denied she bowed to pressure from Simmons not to release the film.
David Bruckner directed The Night House from a screenplay by Ben Collins and Luke Piotrowski about a recently widowed woman in her lakeside home to digs into her husband's past when she starts to see ghostly visions.
David S. Goyer's Phantom Films produced with Anton, who also financed the feature and represented worldwide sales, jointly representing North America with Endeavor Content.