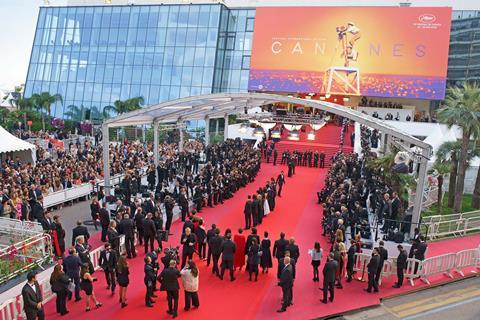 Cannes' Marché du Film is to host physical screenings of titles from the festival's Official Selection for industry in five key territories, all outside Europe.
With travel restrictions still in place as a result of the ongoing pandemic, the market has organised screenings in Melbourne, Mexico City, Beijing, Seoul and Tokyo.
They will be reserved for buyers, distributors, streaming platforms and festival programmers and will take place on July 8, 9 and from July 12-16, the day after their official screening in Cannes.
More than 20 titles have agreed to take part to date, including eight out of the 24 Competition titles.
The physical market will run from July 6-15 and offer more than 500 screenings in Cannes. Organisers have confirmed Europe will be the most represented continent, with 50% of its usual attendance confirmed so far, while US attendees continue to confirm attendance and represents more than 10% of all accreditations.
But for those unable to unwilling to make the journey to France, screenings will take place at Melbourne's Cinema Palace Como, Mexico City's Cinepolis Diana, Beijing's French Institute Auditorium, Seoul's Art Nine and Tokyo's The Film School of Tokyo and Eurolive.
It follows a similar initiative conducted by Berlin's European Film Market in March.
Confirmed titles
Competition
Benedetta (Pathé Films)
Dir: Paul Verhoven
Casablanca Beats (Wild Bunch International)
Dir: Nabil Ayouch
France (Indie Sales)
Dir: Bruno Dumont
The Worst Person In The World (mk2 Films)
Dir: Joachim Trier
Nitram (Wild Bunch International)
Dir: Justin Kurzel
Petrov's Flu (Charades)
Dir: Kirill Serebrennikov
Paris 13th District (Playtime)
Dir: Jacques Audiard
Everything Went Fine (Playtime)
Dir: François Ozon
Out of Competition
Peaceful (Studiocanal)
Dir: Emmanuelle Bercot
Cannes Premiere
Jane By Charlotte (Jour2Fête)
Dir: Charlotte Gainsbourg
JFK Revisited: Through The Looking Glass (Altitude)
Dir: Oliver Stone
Hold Me Tight (Gaumont)
Dir: Mathieu Amalric
Directors' Fortnight
Ali & Ava (Altitude)
Dir: Clio Barnard
Un Certain Regard
La Civil (Urban Distribution International)
Dir: Teodora Ana Mihai
My Brothers And I (Charades)
Dir: Yohan Manca
Lamb (New Europe Film Sales)
Dir: Valdimar Jóhansson
Unclenching The Fists (Wild Bunch International)
Dir: Kira Kovalenko
Onoda – 10 000 Nights In The Jungle (Le Pacte)
Dir: Arthur Harari
Midnight
Tralala (Pyramide International)
Dirs: The Larrieu Brothers
Special Screenings
The Heroics (Pyramide International)
Dir: Maxime Roy
Critics' Week
A Tale Of Love And Desire (Pyramide International)
Dir: Leyla Bouzid
Zero Fucks Given (Charades)
Dir: Emmanuel Marre, Julie Lecoustre
Olga (Pulsar Content)
Dir: Ellie Grappe