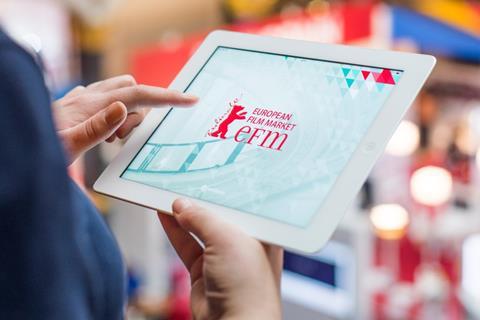 The Berlinale's European Film Market (EFM) kicks off its 2022 edition this Thursday (February 10), running virtually for a second year after a surge in Omicron-related Covid cases in Germany in early January forced it online amid fresh restrictions.
The EFM's official February 10-17 dates are tied to the world premiere calendar of its parent festival's compact physical edition. Most sales agents, however, began cranking up Zoom calls to buyers last week with meetings expected to swing into top gear on Monday (February 7).
The news in mid-January that the EFM would be online again was a disappointment for many who had been hoping to make their first trip to Berlin since 2020 when the festival and market unfolded in the shadow of the early days of the pandemic.
The talk in Cannes last July was that this year's EFM would mark the true return to physical markets, and this seemed to be on cards until the arrival of the Omicron variant. The EFM's main exhibition spaces of the Gropius Bau and Marriott Hotel were sold-out by mid-December.
But the 11th-hour move over to a virtual format not does appear to have diminished enthusiasm around the market as a key date in the calendar. Sales companies, particularly in Europe, have been feverishly putting the final touches to lines ups and digital marketing campaigns since mid-January.
The EFM's virtual cinema will screen 750 festival and market titles in scheduled online slots over the course of seven days. Every film in official selection will also get a single physical industry screening. A handful of distribution and programming professionals are expected to stalwartly make their way to Berlin, kitted out with FFP2 masks, vaccination passes and antigen tests.
"We need these dates in the calendar where the industry focuses on acquisitions and sales, and we all come together in a certain spirit," said Thorsten Ritter, EVP, acquisitions, sales and marketing at Beta Cinema. "Of course, you can do this throughout the year, sending screener links and having conversations but you need these moments of focus and concentration."
Like most sales executives, Ritter is kicking off his online meetings on Monday (February 7), even if Beta Cinema's official EFM screenings begin three days later. The company is screening 10 titles on the EFM platform, including Berlinale Special Gala selection The Forger and comedy-drama My Neighbour Adolf, which will get a private buyers' screening.
"It important to support the EFM," noted Ritter, adding the company would, however, organise additional screenings on its own in-house platform for clients unable to make the timed market sessions.
In-person presence
Ritter will also travel from the company's home city of Munich to Berlin for a long networking weekend, with Beta Cinema CEO Dirk Schürhoff and head of sales and acquisitions Tassilo Hallbauer. "I also look after German distributors so it's a good opportunity to meet up with them and other producers on the ground," he said.
With many of the physical industry screenings taking place in the Potsdamer Platz CinemaxX, the expectation is that the lobbies of the neighbouring Hyatt hotel, as well as the nearby Marriott and Ritz-Carlton hotels, will end up being key hubs even if there are no official sales offices in these hotels this year.
Some companies, especially those with a number of films in the festival, have independently hired out venues for the duration of the market. The Match Factory, which is handing Competition titles Rabiye Kurnaz vs. George W. Bush by Andreas Dresen and A E I O U - A Quick Alphabet of Love by Nicolette Krebitz, has booked the Posh Bar on Potsdamer Platz for its meetings. "We're looking forward to seeing some of our friends and partners after such a long time," says head of sales Thania Dimitrakopoulou.
After the German film industry, the second biggest delegation by territory will be from France. Alpha Violet, Charades, Coproduction Office, Gaumont, Les Films du Losange, MPM Premium, Playtime, Shellac, Wild Bunch International (WBI) and Playtime are among the French sales companies that have confirmed some sort of physical presence.
WBI, which is handling Golden Bear contenders Both Sides Of The Blade (aka Fire) and Before, Now & Then as well as Special Gala selections Dario Argento's Dark Glasses and Incredible But True, is setting up shop in a gallery space on Leipziger Street.
Playtime, which sells Francois Ozon's opening film and Golden Bear contender Peter Von Kant as well as Rithy Panh's competition title Everything Will Be OK and Special Gala selection About Joan, is taking over the Fitzroy bar and nightclub overlooking Berlin's Spree River. It will run online and physical meetings out of the venue, working alongside colleagues from sister companies Films Boutique, Be For Films and Film Constellation.
"We have wi-fi and good beer, so we're all set," said co-founder and partner Nicolas Brigaud-Robert. "As we had sufficient films in the festival and a full line-up if you take into consideration the slates of our sister companies. We thought it would be nice to take a place where we could see one another and our clients."
He plans to focus on digital appointments with his Asian clients from early in the morning and then segue over to in-person meetings in the afternoon, with the office open for visitors from 14.00 (CET). The missing ingredient, he noted, will be those serendipitous meetings that result in business further down the line.
"With this year's festival set-up, it's less likely you're going to just bump into people by chance. You'll need to have an appointment and a place to meet," he said.
Sellers in town
Sales companies setting up physical offices during the Berlinale are the exception rather than the rule. "Not enough buyers are going so we'd spend money to sit in hotel rooms Zooming in Berlin – it just doesn't feel worth it. If we had a film in the festival, of course, we would attend. There's no real reason to go," said Gabrielle Stewart, managing director of the UK's HanWay Films. "We've got an online booth as an official presence to support the market, but we have our own pitching room, with all our materials and promos and artworks," she adds.
Overall, the in-person presence out of the UK will be minimal, with most UK sales companies carrying out business from home.
The exceptions are Bankside Films, Protagonist Pictures, Cornerstone and Anton, who will be sending in-person teams because they have films in the festival, spanning Flux Gourmet, Call Jane, Good Luck To You, Leo Grande, and Both Sides Of The Blade (aka Fire) respectively.
"We will be conducting the majority of EFM meetings online, but a small team will be on the ground in Berlin for a few days in support of the film we have in official selection," said Stephen Kelliher, managing director of Bankside Films, which is handling Flux Gourmet. "We expect business to be in line with other markets we have experienced during the pandemic. Buyers have been consistently active and engaged for the right projects."
Embankment is doing online-only meetings, with Calum Gray, head of sales, anticipating meetings will stretch out through the coming weeks. "It's been fantastic to see, over the last two years, how resilient all-rights buyers have been," said Gray.
He adds, however, that markets are "essentially additive" for their business. "We are not driven by a market cycle and introduce new films to distributors when they are fully packaged, whether there happens to be a sales market or not. Our buyers tend to be similarly active between markets, for the right audience-led IP."
A number of UK sales agents, including HanWay Films, Metro International, WestEnd Films, Dogwoof and Altitude Film Sales, have booked online booths via the EFM portal out of a desire to signal their support for the market, even if they will also be using their own platforms to show presentations and conduct business.
Will distributors be in a buying mood?
It remains to be seen how many distributors pitch up physically in Berlin. An informal survey by Unifrance suggested only around 20% of the distributors who usually make the trip to Berlin were planning a physical presence this year.
Mattias Nohrborg, head of acquisitions at Swedish distributor TriArt Film, is heading to the Berlinale for the 42nd time in his long career, driven by a desire to watch the festival films on the big screen. "It's a great opportunity to view the festival films in cinemas in Berlin. Mentally, it's great to join a festival, one of the big ones, again," he said.
The more important question for sales agents, however, is whether distributors will be in a buying mood with the pandemic still weighing heavily on the theatrical market for independent cinema.
"The market clearly isn't boiling hot, but I feel it's simmering," said Playtime's Brigaud Robert. "There are people I didn't book appointments with a few months ago for the virtual AFM because they didn't even have an appetite to look at movies at the time, who are now back."
"We are at a crucial moment when some territories are still dealing with the pandemic, but in which many are quite optimistic and believe that 2022 could mark the end of the crisis. In this context, I'm hopeful that buyers during Berlin will go for films they fall in love with and ambitious projects. The fact that many distributors, like us, are travelling to physically travel to Berlin testifies to a real desire for cinema and it is a very good signal," said Les Films du Losange head of sales Alice Lesort.
"I have released most of my planned films, in Sweden we had tough restrictions but never a lock-down. I have a big line-up and don't need very many films. But at festivals you also do pre-buys," said Nohrborg of his acquisition plans.
HanWay's Stewart said she finds it harder to gauge the temperature of a market when it is online but has high hopes nonetheless for a "big presentation" on Monday (February 7) featuring first footage of Leo Leigh's Sweet Sue, as well as Justin Kurzel talking about his vision for upcoming feature Morning and Rebecca Lenkiewicz in conversation with Fiona Shaw about Hot Milk.
"My impression of the Covid era is that it's feast or famine. If you have the right package, it sells brilliantly. If things aren't quite right, it's harder than usual," she said.