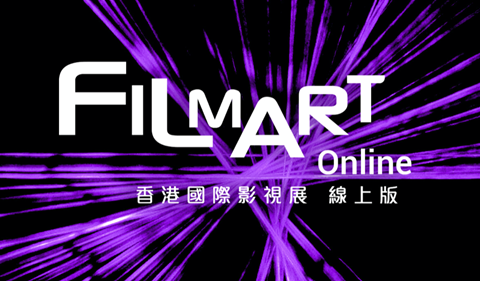 Coming just a couple of weeks after the European Film Market (EFM, March 1-5), this year's Filmart Online (March 15-18) was regarded by most buyers and sellers as an Asia-facing continuation of the more Europe-focused event.
Many Asian sellers came into the two markets with packed slates of new titles – production is returning to normal levels in most parts of the region – and reported a busy three-week period, with little downtime between the two events.
"Since EFM and Filmart were so close together, we just scheduled our meetings as if it's one long market," said Media Asia general manager Fred Tsui.
As with previous online markets, many sellers opted to use neutral third-party apps, such as Zoom, to host meetings, rather than official market platforms, which are mostly being used for screenings and webinars. The revamped HAF platform was praised for ease of use and a social event facilitated by Gather Town. "It replicated some of that organic networking that happens in real life," said Good Move Media international sales manager Pearl Chan.
With cinemas open in many Asian territories, sellers reported that Asian buyers were relatively active, especially at Filmart. "This market has been more productive than expected. As several countries are without films, the Korean films coming in are hot with buyers from various countries," said Danny Lee, head of international business at Korea's Contents Panda. "The atmosphere is very good, but since local release dates are uncertain, we have to give a little more time for sales deals."
Finecut director Yunjeong Kim said: "For Filmart in particular, we were able to have good meetings with staple Asian buyers such as broadcasters that have always made up the main acquisitions force at Hong Kong Filmart and we expect good results." She added that some buyers were looking for films for the second half of this year, when they were unsure of Hollywood films opening, "but there are others that have a backlog from last year that they still need to release, so were looking for films for 2022."
Buyers from outside Asia, particularly regions such as Europe that are still struggling with Covid-19, were much more hesitant. "Theatrical release remains a big problem, as cinemas are still closed in many countries. Even when cinemas are about to open, buyers are very cautious," said Media Asia's Tsui. "For arthouse titles, theatrical release is a must, and this uncertainty makes it almost impossible for us to sell those titles to hitherto arthouse friendly countries."
June Wu, special consultant to Taipei-based Distribution Workshop, said: "Buyers are still interested in big-budget commercial titles, but offers are not as high as before. The uncertainty of cinema closures and capacity limitations are holding buyers back from giving better offers. It's more like buyers are just preparing enough bullets for the year."
Virtual future
Reactions were mixed about whether markets should retain online elements and become hybrid in the future. Good Move Media's Chan observed that compressing festival schedules into a shorter online market duration (i.e. the five-day combined Berlinale/EFM) makes it difficult to juggle screenings and meetings: "Markets are fun in person, but they're also fine online. I think I'd like to see fewer markets, but with more casual forms of interaction."
Sellers agreed that the spontaneity and social aspects of physical markets are difficult to replicate online. "We expect that hybrid markets will continue for a while, as almost all buyers are telling us they will not travel this year. However, as it's convenient to have virtual meetings at any time, we are not sure about attending every single virtual market in the future," said Wu.
Asian sellers are also finding it difficult to conduct business at online markets due to the eight-hour time difference with Europe (and 16-hour difference with LA), although this is less of an issue for companies that focus their sales efforts on Asia. "We sell our films the world over, and virtual markets simply don't work for us because of time differences. We need everyone to be together in the same place for things to work," said Tsui.
"I also don't see how a hybrid market can work: it will be very chaotic and not very viable if we need to do both physical and virtual meetings concurrently within the same market. It can only be an either/or situation."
Despite the difficulties, there was still real business being done. Media Asia reported several deals on titles including God Of War 2 and Septet: The Story Of Hong Kong, while Endeavor Content sold nearly whole Asia on Vietnamese horror The Ancestral.
But the Asian industry, at least, sees the proliferation of online markets as a stop-gap rather than a solution. Unless physical markets return soon, there will be more questions about whether online markets really need to be tethered to multiple physical events on each continent, or if each region just needs one virtual platform that focuses the industry's attention at a particular time. Speaking off the record, one buyer said: "I took very few meetings during EFM and Filmart. We can do online meetings whenever it's necessary, so I don't see why I need a virtual market to Zoom."
More comments from Asian buyers and sellers coming out of EFM and Filmart:
"Filmart has been so close to EFM that it feels like more of an extension rather than its own market this year. We are continuing meetings from EFM and following up with contracts. It's been slow because local release dates aren't fixed yet. So we have been focusing on selling library titles." – Mia Park, CJ Entertainment (South Korea)
"The two-week gap between EFM and Filmart was great for us as a seller, as we were able to package our line-up for both markets, but quite challenging for us as buyer as we have to juggle between the two markets for evaluating projects, reading scripts and watching screeners." – Sim Wee Boon, mm2 Entertainment (Singapore)
"It seems like the pandemic has left us no choice but to adapt to this increasingly virtual world. I do miss the physical Filmart. We are still learning and adjusting. Overall, we have been working fine with this virtual format of Filmart. As a sales company, the most important thing is to double our efforts and present our new titles. Good-quality content will still be leading the game." – Christy Choi, One Cool Pictures (Hong Kong)
"This year we are doing more acquisitions than sales due to Covid-19. For EFM and Filmart, we were looking to purchase 200 titles for TV, VOD and new media. We have closed deals for about 100 and will finalise another 100 within this month. The titles are mostly from Asia, the UK and US, plus some are international titles." – Ngo Bich Hanh, BHD and Vietnam Media (Vietnam)
"From a buyer's perspective, while online film markets are efficient and get the job done, we still prefer physical markets. Watching movies online and having zoom meetings is not as engaging as the film markets used to be when we could talk to new people and share ideas face-to-face." – Esther Hau, GSC Movies (Malaysia)
Jean Noh and Silvia Wong contributed to this report.