September Films boss Pim Hermeling has revealed details of his ambitious plans to remould his company as a vertically integrated outfit, combining production and exhibition with distribution.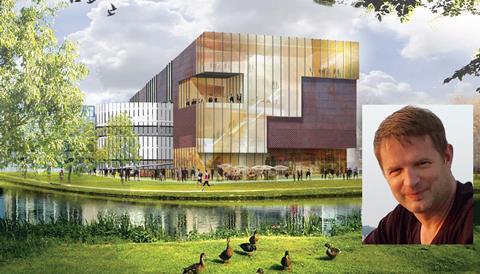 Hermeling will soon be launching a major new, eight-screen 800 seat cinema in the Dutch province of Utrecht.
The Kade, as it will be called, is a joint venture between September Films (formerly Wild Bunch Benelux) and the HKU Univeristy of the Arts.
Building work on the venue will begin shortly and the venue is due to open in late 2016 or early 2017.
The veteran Dutch distributor recently set up September Films Production, a new outfit that will look to co-produce using the Dutch cash rebate incentive set up last year.
Hermeling has also been on an early autumn buying spree.
One recent September acquisition is A War (Krigen), directed by Tobias Lindholm. The film, sold by StudiCanal, is screening this week in Venice's Orizzonti.
The company has also acquired several Toronto titles.
Hermeling is the co-producer of The Idol, the new feature from Hany Abu-Assad. This is a biopic of Mohammad Assaf, the Gazan crooner who became a global star after winning the live-singing competition Arab Idol in 2013. The film is sold by EOne.
Another pick-up which Hermeling acquired between markets is Sundance title James White from writer-director Josh Mond, sold by Memento.
September has picked up Peter Sollett's drama Freeheld, starring Julianne Moore, Ellen Page and Michael Shannon, sold by Bankside.
Meanwhile, Septermber is releasing David Verbeek's "road movie of the subconscious", Full Contact, a thriller about a guilt-racked drone operator. The sales agent is Bac.
From Elle Driver, September has taken Dégradé, about 13 women caught in a Gaza hair salon during a stand-off between police and a local gangster. The film is directed by twin brothers Tarzan and Arab Nasser.
Hermeling is also giving a Dutch release to French documentary, Je Suis Charlie.
Showing his appetite for local fare, Hermeling is giving a major release to Joram Lürsen's long awaited Public Works, adapted from a bestselling novel and produced by Topkapi.
Other upcoming Septmeber releasess include Thomas Vinterberg's forthcoming drama, The Commune, and Felix van Groeningen's Belgica.
In spite of his recent acqusition drive, Hermeling expressed worries about the state of the independent market in Benelux and beyond.
"VOD is not bringing what we expected, DVD is simply out and TV and pay-TV are very selective, at least in my territory," Hermeling said.
"The only way to make money is on the theatrical side."
This shift in market conditions is what has pushed Hermeling into co-producing - in order to have access to projects at an earlier stage - and has persuaded him to ramp up his exhibition activities.
He calculates that 80% of revenues on films September releases now come from theatrical.
One recent September title, Gluckauf, directed by Remy van Heugten, is in the running for multiple Golden Calf awards at the Dutch Film Festival in Utrecht later this month.