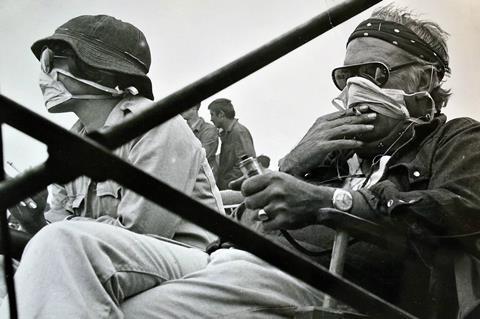 Serbian producer Milos Antic is moving ahead on a long-cherished dream to bring Sam Peckinpah's unproduced screenplay Castaway to the big screen.
Antic has secured rights from the Peckinpah Estate and will produce the existential parable alongside Los Angeles-based producers Katy Haber, with whom he worked on the late Peckinpah's Cross Of Iron may years ago, and Benni Korzen.
Antic and Haber worked with Peckinpah on his only war film (pictured), in 1976 in Portoroz, Slovenia, in the former-Yugoslavia. During the shoot Peckinpah told Antic of his wish to direct Castaway, whereupon Antic expressed immediate interest in financing the project if they could film in Yugoslavia.
Peckinpah had originally bought the film rights to Pulitzer Prize-winning author James Gould Cozzens' classic enigmatic 1934 novella Castaway in the late 1960's.
The story centres on Mr Lecky, an everyman who survives an unnamed catastrophe by hiding in a department store that remains intact. Surrounded by everything he could possibly need, Lecky is haunted by his own paranoia and demons. It is believed that Peckinpah saw the modern day take on Robinson Crusoe as a metaphor of his own life.
In the late 1960's Peckinpah wrote the first of many drafts of the screenplay along with longtime collaborator and writing partner James R. Silke. He almost got the film off the ground when L.Q. Jones, a director-writer from his stable of actors, agreed to produce, only for it to collapse due to financing problems.
In 1981 at the Murray Hotel in Livingstone, Montana, Antic closed a deal for Macedonia-based Vardar Film to serve as executive producer. The plan was for Peckinpah to direct with a budget of $3m, and production was scheduled to start in 1985 in Macedonia, but everything fell apart when Peckinpah died in 1984.
In 2013 Antic reconnected with US-based producer Korzen, with whom he had worked in the former-Yugoslavia in 1985 on The Misfit Brigade, and they set about attempting to untangle the chain of title.
Earlier this year Peckinpah's film rights to Cozzens' novel were discovered, effectively green-lighting the film. A recent chance encounter between Antic and Haber led to the latter coming on board as producer.
"Although Sam did not live to direct Castaway, we are looking forward to assembling the greatest creative team and talent possible to translate his unique energy and vision," said Antic. "Along with my producing partners, Benni Korzen and Katy Haber, we are especially pleased to be able to produce Sam's next great film, not only to keep his legacy alive and introduce him to a new generation, but to finally deliver the gift he promised his family."