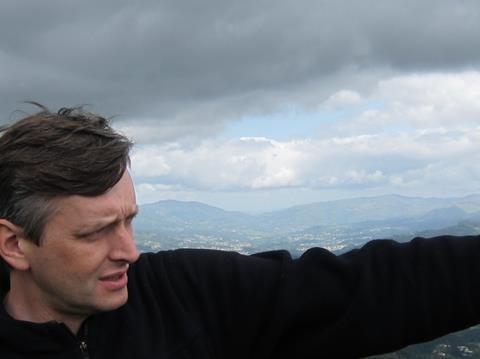 Prolific Ukrainian filmmaker Sergei Loznitsa has revealed details of his new documentary film State Funeral, about the "grandiose, terrifying and grotesque" spectacle of the funeral of Joseph Stalin.
It will be the latest of Loznitsa's montage films based on archive footage following Blockade, Revue, The Event and The Trial. He is readying it for completion later this year.
"I have been working with footage which was shot between March 5-8, 1953 for a film called The Great Farewell by directors including Sergei Gerasimov and Ilya Kopalin," Loznitsa explained. "But the film was banned after people in the Soviet government saw it and so it was never released. The film only appeared during the period of perestroika in the 1990s."
Berlin-based Loznitsa is working with 100 reels of material he found in the Russian state archive which includes footage of the four-day event in Berlin, Warsaw and Prague as well as the major Soviet cities.
"The film will follow the chronology of the four days – from the announcement of Stalin's death to the funeral in the Red Square," Loznitsa explained. "I want to present audiences with the opportunity to be inside that time and feel it.
"My generation can now start to talk about this time because for previous generations like that of my parents, there are still the painful memories," he said.
State Funeral is being produced by Atoms & Void, the Dutch-based company Loznitsa set up with Maria Choustova in 2013. The company has produced three short and three feature-length documentaries by Loznitsa as well as serving as associate producer on his fiction feature films A Gentle Creature and Donbass.
Loznitsa is now looking for potential co-producers from Lithuania and the Czech Republic.
goEast Festival of Central and East European Film
Loznitsa was talking to Screen at the goEast Festival of Central and East European Film in Wiesbaden in Germany earlier this week. He was in town to host a masterclass in which he talked about Babi Yar, his next fiction feature, which is about the massacre of over 33,000 Jews by German forces and local Ukrainian collaborators over two days in September 1941. He said he had been scouring the archives in Russia, Ukraine and Germany for footage to use or 'recreate' and planned for another six months of research.
Babi Yar is a being produced by France's Slot Machine wihich produced Lotznitsa's 2017 Cannes competition title A Gentle Creature.
"I have been trying to get the funding for this film for six years now," the director admitted. "In Ukraine they asked me how I am going to portray the Ukrainians. It is a very painful topic. As in my previous films, I will again be addressing the issues of memory and trauma and the mechanisms of dealing with trauma."
Loznitsa's last fiction feature, Donbass, has been nominated for five of Ukraine's national film awards, the Golden Dzigas, including for best film, best director and best screenplay. The winners will unveiled at an awards ceremony for the third edition of the Ukrainian National Film Awards on April 19.
Festival winners
Russian actor Alexander Gorchilin's fiction feature directorial debut Acid won the €10,000 Golden Lily at the goEast Festival. The film, which is handled internationally by Wide Management, premiered last year at the Kinotavr Russian Film Festival in Sochi where it won the prize for best debut.
The international jury, headed by director Teona Strugar Mitevska and including producers Igor Savychenko and Anna Katchko as well as festival directors Stjepan Hundic and Magdalena Zelasko, presented the best director prize to Kazakh filmmaker Adilkhan Yerzhanov for The Gentle Indifference Of The World. It also garnered the FIPRESCI prize in the feature film category.
The prize for the best documentary in the goEast competition was won by Belarussian filmmaker Andrei Kutsila's Strip And War which had its world premiere in Wiesbaden.
Meanwhile, the Federal Foreign Office's Award for cultural diversity went this year to Alisa Kovalenko's documentary Home Games about a young woman footballer playing for Kiev in Ukraine's top league trying to reconcile personal passion with family and economic obligations.
Young filmmakers from Central and Eastern Europe came to Wiesbaden to meet opposite numbers from Germany to network and exchange ideas about new projects as part of the festival's East-West Talent Lab.
Additionally, five projects in development were presented to festival guests and an expert jury as part of the Lab. They included documentary projects by Alexander Mihalkovich (The Mother's Crusade, Belarus), Keren Chernizon (Rebbellion, Poland/Brazil), Ksenia Ciuvaseva (Landing, Moldova) and Dávid Mikulán (Kix, Hungary), among others.