Winston Churchill has been portrayed on screen many times, but Salon Pictures' latest film shows him in a new light.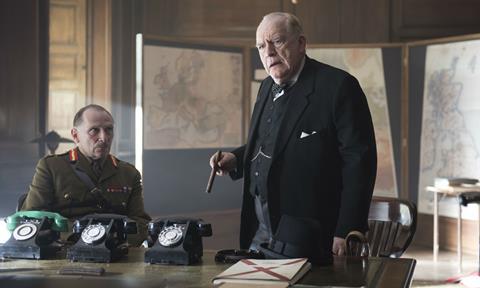 "He was a bulldog. But of all the dogs, bulldogs are actually quite sensitive," says Brian Cox, the Scottish actor who takes the title role in Churchill, reflecting on the contradictory nature of the celebrated wartime UK prime minister.
Speaking in his trailer during a break in shooting, Cox describes Churchill as "a man of destiny" but also a manic depressive who self-medicated through alcohol.
"You realise you can't avoid his theatricality, but it is a device he used," says Cox. "The cigar was like thumbsucking. He was probably a thumbsucker. He hardly inhaled. He was very much a little boy, in tune with his inner child. He had a miserable time when he was growing up."
Producers Nick Taussig and Paul Van Carter of Salon Pictures (The Guv'nor, Gascoigne) originated the project, which is being sold by Embankment Films and is due to be released in the UK by Lionsgate in June. Partly inspired by Oliver Hirschbiegel's Downfall (2004), which depicted Adolf Hitler in his Berlin bunker in his final days, they set out to reveal "the man behind the icon, behind the myth".
Churchill was developed with the assistance of the BFI; Salon Pictures is producing alongside Tempo Productions, with backing from Silver Reel, Lipsync and Creative Scotland.
Contemporary portrayal
The $5.1m (£4m) production is set in the 48 hours leading up to D-Day — June 6, 1944. Churchill, still haunted by the carnage he unleashed during the bungled Gallipoli landings in the First World War, is very wary about the D-Day plans but is overruled by the Allied generals, Dwight D Eisenhower (played by John Slattery) foremost among them.
"We're doing a very contemporary portrait of him. The natural reflection off that was to have a young woman write the screenplay," Van Carter says of the decision to recruit historian and journalist Alex von Tunzelmann to script Churchill. The film was developed with Cox — renowned on screen as the first Hannibal Lecter in Michael Mann's Manhunter (1986) and on stage for his portrayal of King Lear in an acclaimed 1990 production at the UK's National Theatre — in mind.
"If this is going to be the edgy, rock 'n' roll, cool Churchill movie, that's reflected in the conceit — it's a thriller, a ticking clock," says Van Carter. "We always knew we were not going to make a Saving Private Ryan, $100m film with the storming of the Normandy beaches. It became all about that internal drama and conflict in Whitehall in the lead-up to D-Day."
The brooding, internal approach focuses on Churchill's relationship with his wife Clemmie (Miranda Richardson). There are tensions between them. They sleep in separate beds. Churchill is aware he has been neglecting her, and yet remains very dependent on her.
"They're symbiotic but there's a terrible strain on the relationship," says Richardson. "He always expects her to be there. He's putting her in a position where he is potentially an embarrassment to himself. He refuses to delegate to his generals. He's not doing what she perceives to be the real job, to lead the country by attitude rather than by interfering with the generals who are doing the dirty work, running the war. She seems to have an inherent understanding of that."
Australian director Jonathan Teplitzky (The Railway Man) came on board just a few weeks before production began, a late replacement for Brian Welsh. "It's like a Labour supporter making a film about Margaret Thatcher," Teplitzky jokes of being an Aussie telling the story of a man still held responsible for the death of so many young Australians during the First World War. "But, as a filmmaker, you look for interesting characters and then try to explore and humanise their behaviour."
Churchill may be set in England but it was shot almost entirely in Scotland. "We talked to all the regions," Taussig explains. "We explored Wales, we explored Yorkshire, but Jonathan had shot The Railway Man in Scotland. On a low-budget film, we need to use nature and there are some beautiful landscapes here, some beautiful horizons, a dramatic quality that gave us a scale we would have struggled to get in London."
The filmmakers contend that people know less about Churchill than they might think, even if his image is everywhere: Churchill's face is on the UK's £5 note; his highly theatrical speeches ("We will fight them on the beaches!") are still frequently invoked; and everyone knows he smoked cigars and made 'V For Victory' signs. Gary Oldman is also due to play him in Working Title's Darkest Hour, scheduled for release at the end of 2017. What they are far less aware of is what Cox calls his "humanity… his flaws, his pettiness, his temper".
"There's obviously a massive existing brand there," Taussig concludes of the Churchill phenomenon. "The film was about whether we can say something genuinely fresh, new and different about him."