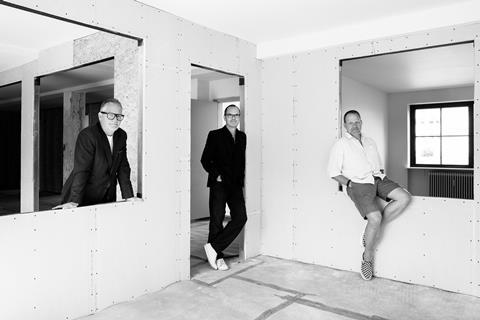 Upstart Scandinavian Film Distribution (SFD) has added first-look deals with three production companies across Scandinavia.
The outfit, which launched in March 2020 with the aim of growing into a major player like SF Studios or Nordisk, has signed first-look deals with Metafilm in Denmark, 4½ in Norway and Drama Svecia in Sweden.
SFD head of creative Kim Magnusson told Screen: "We want to show that we have the strength to be creatively involved from the beginning. These deals show we are in the game to support the producers."
Executive chairman Christian Bévort added: "The producers are also showing that they have faith in us to commit to us for projects in the coming years."
CEO Michael Fleischer said: "Raising capital especially during a pandemic is not easy, but we are now showing the industry we are serious, we are here, we have the intention to grow stronger."
SFD plans to add more first-look deals with producers in each territory. The deal with Metafilm – whose productions include Ali Abbasi's Border and The Wife – is for features only, and not for TV projects on the company's slate. Bévort praised Metafilm founder/CEO Meta Foldager for "her strong leadership and a great track record. She has been running a very successful operation for some years."
About 4 ½, which has credits including Out Stealing Horses and Reprise, Bévort said, "We have a long relationship with director Hans Petter Moland and producer Hakon Overas. It felt very natural to continue the relationship with a more formal agreement."
Magnusson added: "Hans Petter's films are so creatively strong and have international appeal."
Bevort further praised director/producer Mikael Flodell at Drama Svecia, which has credits including King Of Atlantis, for "a very interesting and very commercial slate".
SFD will support some development funding across all three companies. Additionally, it is working with Danish company Deluca on a trilogy of crime drama features, and has acquired 11 films for distribution. Its first release, The Seekers: A Night Of Thrills, a live-action family film produced by Copenhagen Bombay, will launch in Denmark in October.
"Starting in 2022, we plan to have a new film premiere every month," said Bévort. Releases include Second World War drama War Sailor produced by Mer Film; Kristoffer Borgli's Sick Of Myself by Oslo Pictures; Swedish family film Mini Zlatan And Uncle Darling; and Finnish title Hit Big by Dogs Don't Wear Pants director J-P Valkeapää.
Each film will get a bespoke release strategy, with some being released only in their home markets, while others could be released across the five Nordic countries.
Scandinavian Film Distribution is part of Scandinavian Film Funds, which has closed $16m in a private equity funding round.