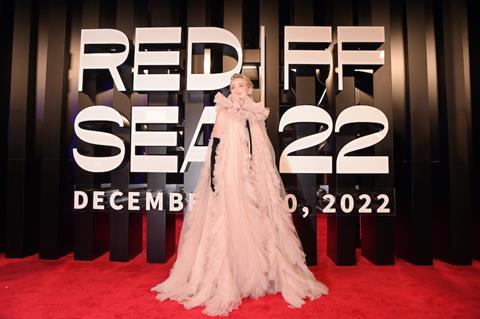 Sharon Stone said she "would like to have directed" after her breakthrough role in Paul Verhoeven's erotic thriller Basic Instinct in 1992, but was dissuaded from doing so due to her gender.
"I went to the studio [Stone didn't confirm to which studio she was referring] and asked them for a small budget," said Stone. "And I was laughed out of the room; I was told 'women don't direct'."
Basic Instinct was produced by Mario Kassar's Carolco Pictures and released in the US by TriStar Pictures.
Stone was speaking at an in-conversation event as part of the Red Sea International Film Festival (RSIFF) in Saudi Arabia; the talk was well-attended, with the 160-seat venue almost at capacity.
The actress said the difference between her Basic Instinct salary and that of co-star Michael Douglas meant she was not able to feel secure after the film made her famous. "I made $500,000, and Michael Douglas made $14m," said Stone. "Michael could afford the car, driver, bodyguard. I had to move because people were on my roof and breaking my door down. I couldn't afford the things I needed because of the sudden fame I had."
Stone took her concerns to the studio, saying "'it's time for you to pay a woman more than $1m' – which had never happened before. It was a big moment not just for me, but for the film industry."
While the film launched her career, the effect in her own life was not entirely positive. "To break down these barriers, for women to be powerful in film, for women to be paid, to have equal rights – it was very conflicting to the masculine industry," she said. "There was this backlash that I must be like my character – I must be killing people and naked and showing my vagina in the supermarket. It became personally traumatic in my life; I lost custody of my baby in my divorce, because the judge decided I was making sex movies.
"I was greatly punished – it destroyed my personal life, my personal rights. It destroyed the way people thought about me as a human being – people went around saying 'she's like that character, because she couldn't play that if she wasn't that.' I wasn't acknowledged for the quality of my work until 20 years later."
Recalling the Cannes debut of the film in 1992, Stone said she hid in the back of a car driving along the Croisette while a friend in the seat in front pretended to be her. "We were so afraid, I didn't know what was happening," said Stone, who added that when she went back to her hotel after the premiere, all of her possessions had been stolen – "my contact lenses, my camera, my film, my underwear".
Saudi question
Stone became the latest RSIFF guest to address her attendance at the event in the context of criticisms of Saudi Arabia's human rights record, after Oliver Stone and Guy Ritchie touched on the topic.
"I'm an envelope breaker – that is my success," said Stone. "Coming here, everyone said, 'Aren't you afraid?'. I said, 'I'm afraid not to know. So why don't I go, see how it really is, and then I'll tell you?'
"I don't think every country should have the same way of thinking, being, worshopping, governing," continued Stone. "I don't think that's right or reasonable. You can't tell people how to get their god; that's true not only in spirituality, it's true about governing."
Stone became emotional when discussing her nephew River who died from sudden infant death syndrome; and also spoke at length about her activism with amfAR, the Foundation for AIDS research. "I was told if I said the word condom, all funding would be removed," said Stone. "My life was threatened repeatedly. Many things happened; the more those happened, the more I thought, 'I really need to stick with it'."
Spirituality remains an important part of her life; the actress said she talks out loud to "a spirit" regularly. "I hear spirit – when I talk, I hear an answer," she said. "When I do or say the wrong thing, I hear 'grrr'. Particularly when I'm painting, I talk to spirit the whole time.
"I'm making tea, and I'm talking out loud. And in my mind, someone's talking to me. Many people would say 'she's crazy'. But it works for me."
Stone also mourned what she sees as the end of movie stardom. "Because of cellphones, there's not that mystique," she said. "When I was a kid, movie stardom meant a lot to me – I thought movie stars were unbelievable. I wanted to be a great actress, but I also wanted to be a movie star, because I thought stardom was something unique in itself. And I miss that."
RSIFF in-conversation sessions continue this afternoon with Andy Garcia, Guy Ritchie and Luca Guadagnino.