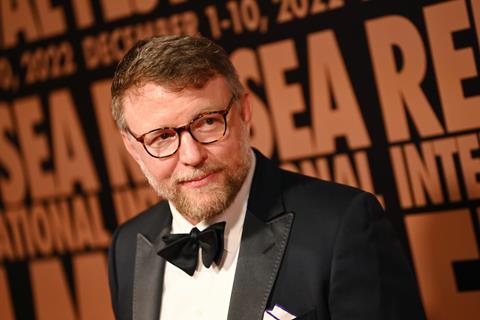 UK filmmaker Guy Ritchie has addressed his decision to attend the Red Sea International Film Festival in Saudi Arabia amid criticism of the country's human rights record, saying "I'm a creative guy, not a political guy."
Ritchie is accepting an honorary award from the festival, which is financed by the Red Sea Film Festival Foundation, chaired by Saudi Arabia's minster of culture Prince Badr Al Saud.
The country continues to receive criticism of its human rights record, including treatment of women and LGBTQ people; it is illegal to be LGBTQ in Saudi Arabia. Asked about his views on these criticisms, Ritchie said, "I'm into the creative aspect. Positive collaboration is the way forward for everything."
Ritchie is on his first trip to Saudi Arabia. He described himself as "a big fan of this region", and has filmed in Bahrain and Jordan. "We'd like to make more movies in this part of the world," he said. "They were kind enough to offer for us to come out here; I saw no good reason to say no."
His plans include a trip to AlUla in the northwest of the country, a region that has been looking to attract filmmakers to shoot there. "I'm a big fan of cultural collaboration and encouraging creativity in my genre, in this part of the world. If I can bang on about filmmaking and encouraging people to make films, I will."
US director Oliver Stone, president of the competition jury at this year's second edition, said the country is "much misunderstood" in his speech at last night's opening ceremony.
Hercules update
Ritchie is attending Red Sea on three days out from the UK shoot of the TV series spin-off of his 2019 film The Gentlemen – "it's a lot of fun, I'm enjoying that."
In February he will start shooting Second World War spy thriller The Ministry Of Ungentlemanly Warfare starring Henry Cavill and Eiza Gonzalez for Jerry Bruckheimer Films and Paramount Pictures.
He also revealed that his crime thriller The Interpreter starring Jake Gyllenhaal has been renamed The Covenant, and finished production two weeks ago, with a release date not yet set: "Fuck knows what it'll end up being called – I like The Covenant."
Ritchie aims to make Hercules, the latest Disney live-action remake, "within the next year".
"I want to be as busy as I fucking can [be]," said Ritchie. "I used to make one movie a year; I'd quite like to make three movies a year. Because I like it, it's not hard work for me. Even coming here, we wrapped filming at 04.30, you're on a plane an hour later; you're here, you start working, you go on a plane, I'll land, I'll go back to work. As long as you're not playing with jet-lag too aggressively, I'm fucking happy doing that."
Ritchie also recalled fond memories of reading Screen International in his early years in the industry. "Screen International was my bible," he said. "I got 'beaten up' by someone when I first went into this industry. He said, 'Tell me the top 10 movies made this week, and tell me who's directed this and who's doing that'. I found myself completely lost, and he went, 'You'd better read Screen International'."
He described Screen as "the bible for understanding the industry" in "a rather interesting fashion; it had a perspective, but that perspective was independent and not angry".