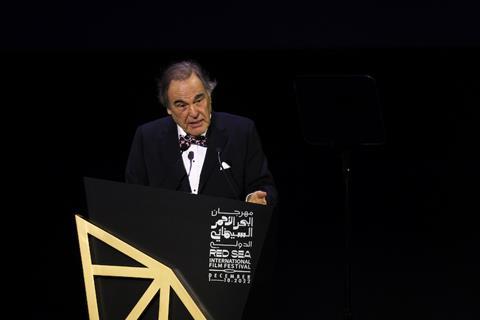 US director Oliver Stone spoke out in support of Saudi Arabia at the opening ceremony of the second Red Sea International Film Festival in Jeddah on Thursday night (December 1).
Attending the festival as the president of the international jury, Stone said the country is "much misunderstood in the present world – people who have judged too harshly should come and visit to see for themselves", to applause from the room. He also noted "changes" and "reforms" that he feels are making the nation a more hospitable place to visit.
Saudi Arabia continues to receive criticism for its human rights record as well as its treatment of women and members of the LGBTQ community. It is illegal to be LGBTQ in the country.
Commenting on the festival selection including a 15-strong competition, Stone noted a theme of Italian-style neorealism. "These films stick to very basic ideas of survival, migration, suffering. There's a real spirit here, which is growing," said the Oscar-winning director, whose body of work includes Platoon, Born On The Fourth Of July, and JFK.
The festival opened with the MENA premiere of Shekhar Kapur's UK romantic comedy What's Love Got To Do With It? starring Lily James, Shazad Latif and Emma Thompson. The trio were not in attendance, although writer Jemima Khan, actors Shabana Azmi, Sajal Ali and Jeff Mirza, music producer Naughty Boy, and director Kapur were.
Introducing the film, Kapur mentioned the need for greater MENA prominence on the international stage. "I wish the festival huge success," he said. "The winds need to change. For too long, the winds have come from the west to the east. Somewhere in the desert sands of this nation, the winds need to rise again."
What's Love… sees a documentary filmmaker capture the arranged – or assisted – marriage of her next door neighbour who is of Pakistani heritage. The film raises questions of cultural and religious traditions, including around Islam. Although the Studiocanal and Working Title film is quite mainstream for many UK audiences, several jokes may have surprised Saudi audiences, including a gay character taking marijuana who quips that "if a man lies with another man, he should be stoned"; and a comparison between assisted marriage and assisted suicide.
Mars gives lift-off
Guests at the opening ceremony included UK director Guy Ritchie, recipient of one of three honorary awards on the night alongside acting icons Shah Rukh Khan from India and Yusra from Egypt.
"I was sat next to a lady and she asked me who I was," said Ritchie in a short speech. "I kept telling her, 'I'm Guy Ritchie.' She said, 'You're not Guy Ritchie, Guy Ritchie's 20 years younger than you.'"
The filmmaker noted how important it was for the industry "to support creatives from this region specifically, and to encourage cultural collaboration".
Other guests in attendance included actors Sharon Stone, Michelle Rodriguez, Freida Pinto and Priyanka Chopra Jonas; UK actor Henry Golding and UK director Gurinder Chadha; Oscar-nominated MENA filmmakers Nadine Labaki – who received a warm round of applause – and Kaouther Ben Hania; plus leading regional luminaries including directors Haifaa Al Mansour, George Khabbaz and Soudade Kaadane.
In-keeping with Saudi law, the event was alcohol-free, which led to a calmer atmosphere from a regular film festival opening; dancing still ensued, albeit less vigorously.
The night closed with a concert to several hundred festival attendees from US pop superstar Bruno Mars, who is touring the region and who played hits including 'Just The Way You Are', 'Locked Out Of Heaven' and 'Uptown Funk'. A major, expensive headline act whose performance would raise the profile of any film event, Mars's presence at Red Sea is an early indication of the financial ambitions of the festival. Attention will now turn to the quality of the film and industry offerings.