Laura Poitras' Julian Assange film, a Jo Cox documentary, and a Walter Murch talk all feature.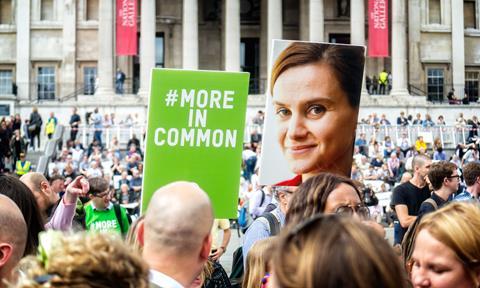 UK documentary Sheffield Doc/Fest has unveiled its full 2017 programme.
This year's closing night event will be the world premiere of Jo Cox: Death Of An MP, a BBC2 documentary that focuses on the investigation of the politician's murder, including contributions from eye witnesses, Cox's family, and people who knew her attacker.
As previously announced, the festival will open with a screening of Daisy Asquith's documentary Queerama, featuring a live Performance From John Grant.
This year's Doc/Fest grand jury will include American Honey director Andrea Arnold, as well as Indian documentary filmmaker Anand Patwardhan and ex-Channel 4 news broadcaster Paul Mason.
UK premieres in the programme this year include Laura Poitras' Julian Assange portrait Risk, Whitney Houston doc Whitney: Can I Be Me, Ramona Diaz's Motherland, Joseph Beuys doc Beuys, World Cup doc The Workers Cup, Oleg Sentsov focus The Trial - The State of Russia vs. Oleg Sentsov, and Winnie Mandela doc Winnie.
Industry events include an Q&A about making your film Oscar ready, featuring Tom Oyer from The Academy Of Motion Pictures speaking to Oscar-winners Orlando von Einsiedel and Joanna Natasegara, a session with God's Own Country director Francis Lee, who premiered a doc at Doc/Fest in 2014 and will discuss making the transition to features, an event with YouTube sensation Elijah Quashie aka 'The Chicken Connoisseur', and a talk with three-time Oscar-winning editor Walter Murch.
There will also be talks with Lenny Henry, June Sarpong, Peter Greenaway, Ian Hislop, and Doc/Fest regular Louis Theroux.
VR experiences at the festival this year include Chasing Coral: The VR Experience, which accompanies the Sundance-winning documentary, the Syria-set Future Aleppo, and a new project, Unrest VR, from the team behind Notes On Blindness.
In total, the Doc/Fest team have programmed 182 Documentary Features And Shorts; 35 World, 21 International, 24 European And 73 UK Premieres.
The Alternate Realities strand, which includes VR films, will feature 26 Projects; 12 World, 1 International, 5 European and 8 UK Premieres.
Director of film programming Luke Moody commented on this year's programme: "We want to take you on a journey through your world with storytelling that will hypnotize, rouse and inspire your soul, both now and in the future, from urgent to slow journalism, from journeys of absurdity to tales of mirth. In a media climate of fake news, post-truths and murky political agendas, these films are our navigators between information and perspective, evidence and opinion, proof and wild possibility."
To explore the full programme click here.