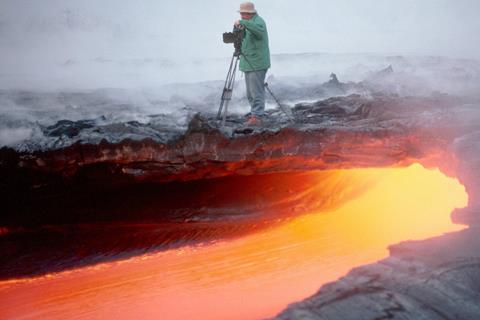 The UK's Sheffield DocFest (June 23-28) has unveiled its 2022 line-up, including the world premiere of Werner Herzog's The Fire Within: Requiem For Katia And Maurice Krafft.
The documentary festival will host 38 world premieres, 22 international premieres and 11 European premieres.
The Fire Within, which is written, narrated and directed by Herzog, will feature in DocFest's Memories strand. It chronicles the French volcanologists who died in a volcanic eruption on Japan's Mount Uzen in 1991, leaving an archive of more than 200 hours of footage that makes up the film.
Herzog previously explored the life of Katie and Maurice Krafft in his 2016 Netflix documentary Into The Inferno. This latest feature marks the second documentary about the couple this year, after Sara Dosa's Fire Of Love which premiered at the virtual Sundance in January.
Further notable titles set to world premiere at DocFest include Emma Davie's The Oil Machine, exploring conflicting imperatives around North Sea oil; James Taylor's A Film About Studio Electrophonique, about the Sheffield studios that nurtured ABC, The Human League and Pulp; and Marwan – Tomorrow's Freedom, about the 'Palestian Nelson Mandela', from directors Sophia Scott and Georgia Scott.
Barney Douglas' McEnroe, in which tennis icon John McEnroe recounts the story of his life and career, will receive its international premiere after debuting at Tribeca in mid-June.
As previously announced, Brett Morgen's David Bowie documentary Moonage Daydream will open this year's DocFest, following its premiere at Cannes, and nine films have been selected for the festival's international competition.
US director Morgen will deliver a masterclass and discuss his career during an in conversation event as will Asif Kapadia, the Oscar-winning UK director of Amy and Senna, who will screen a selection of influential documentaries as this year's guest curator.
Also previously announced, DocFest has collaborated with Ukraine's human rights documentary festival, Docudays UA, for a special programme that will screen nine documentaries and the world premiere of One Day In Ukraine by activist filmmaking group Babylon'13.
On the industry side, new works from Mark Cousins and Cow producer Kat Mansoor are among 35 documentary projects selected for DocFest's MeetMarket pitching forum, which is set to return as an in-person event from June 27-28.
DocFest 2022 Feature Competition Sections
After the End of the World (Leb)
Dir. Nadim Mishlawi
A Bunch of Amateurs (UK)
Dirs. Margareta Szabo, Kim Hopkins
Man On Earth (Aus)
Dir. Amiel Courtin-Wilson
The Melt Goes On Forever: The Art & Times Of David Hammons (US)
Dirs. Harold Crooks, Judd Tully
My Name Is Andrea (US)
Dir. Pratibha Parmar
One Day In Ukraine (Ukr-Pol)
Dir. Volodymyr Tykhyy
Sansón And Me (Mex-US)
Dir. Rodrigo Reyes
Singing On The Rooftops (Sp)
Dir. Enric Ribes
Swing And Sway (Braz)
Dirs. Fernanda Pessoa, Chica Barbosa
International First Feature Film
8 Bar - The Evolution Of Grime (UK)
Dirs. Ewen Spencer, Aleksandra Bilic, David Upshal
Children Of La Brisas (UK-Ven-Fr-US)
Dir. Marianela Maldonaldo
Dear Jackie (Can)
Dir. Henri Pardo
Hafreiat
Dir. Alex Sardà
Julie On line (Fr)
Dir. Mia Ma
Master Of Light (US-Neth)
Dir. Rosa Ruth Boesten
One In A Million (Ger)
Dir. Joya Thome
Some Women (Sing)
Dir. Zi Qui Low
This Is National Wake (S Afr)
Dir. Mirissa Neff
Tim Hetherington Award
Beneath The Surface (Nor-UK)
Dirs. Alexander Niakaris, Irvine-Cox
1341 Frames Of Love And War (Isr)
Dir. Ran Tal
Delikado (Phil-Australia-US-UK-HK)
Dir. Karl Malakunas
Lyra (UK)
Dir. Alison Millar
Overcoming The Darkness (Ukr)
Dir. Kinodopomoga
The Territory (Bra-Den-US)
Dir. Alex Pritz