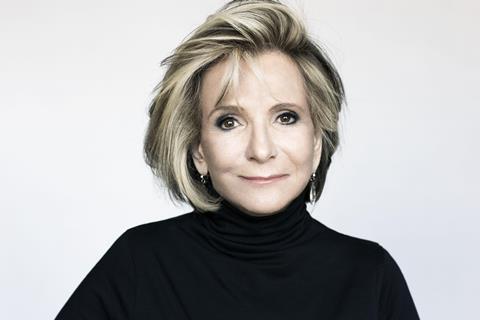 MTV Documentary Films chief Sheila Nevins has added three feature projects to the pipeline from directors and frequent collaborators Alexandra Pelosi, Fenton Bailey and Randy Barbato, and Alexandra Shiva.
The projects are underway and explore the social, political and cultural topics affecting the immediate lives and future outlooks of young people today.
They round out Nevins's initial slate at MTV Documentary Films alongside previously announced St. Louis Superman and Gay Chorus Deep South.
Pelosi (Journeys With George) will direct America On Selfies (working title), which will offer a snapshot of the United States in the run-up to the 2020 election and attempt to answer how Americans look these days and how they feel about their country.
Barbato and Bailey (The Eyes Of Tammy Faye) are working on Going To Pot: The Highs And Lows Of It which explores the booming marijuana industry and the misconceptions and promises accompanying it. The filmmaking pair are working with director Matt Yoka.
Shiva's (How To Dance In Ohio) project looks into suicide among young people, and will tackle mental health issues, and purport to offer life-saving information for despairing individuals to consider.
"Alexandra Pelosi seeks the heartache of America during these difficult times," said Nevins. "The rage over cannabis will be brought to its senses by Fenton and Randy, and Alexandra Shiva offers a deft approach to the alarming increase in the rate of suicide affecting so many young lives."
"Kudos to MTV for rejecting sexism and ageism and embracing the work of mature women," said Pelosi. "Sheila Nevins has been supporting female filmmakers for decades. I would follow her to the end of the earth and it just so happens that in these fragile and anxious times, that just might be where this film will take us."
"We are thrilled to be working again with documentary icon Sheila Nevins and the media trailblazers at MTV on this provocative and timely project," said Bailey and Barbato. "As marijuana evolves from counterculture to mainstream, there's endless curiosity and a critical need for real information. We're excited to produce a jam-packed film that will both inform and entertain."
"I am thrilled be working on this project with Sheila Nevins and MTV Documentary Films," said Shiva. "Sheila is brilliant, always thinks outside the box and she challenges me in the best ways. There is just no-one out there who has the depth of knowledge she does about what makes a great documentary."