The young acting talent will be revealed during the opening weekend of next year's Berlinale.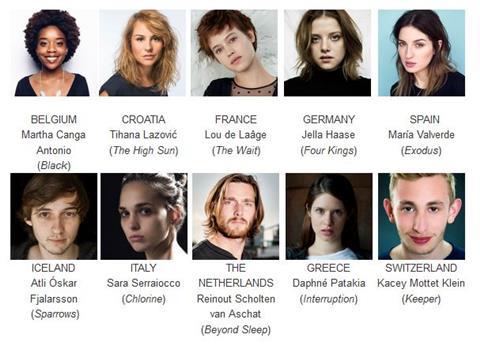 The European Film Promotion (EFP) has revealed the ten young actors that it has selected for the 2016 European Shooting Stars.
The list includes María Valverde, who had a role in Ridley Scott's epic Exodus: Gods And Kings and has been cast in Asif Kapadia's forthcoming romantic drama Ali And Nino.
Jella Hasse, who starred in Germany box office smash Fack Ju Göhte 2 and Atli Óskar Fjalarsson, who played a part in Rúnar Rúnarsson's San Sebastian-winning Sparrows are also both on the list.
As is Kacey Mottet Klein, who plays the lead in Guillame Senez's Keeper, which came away with the joint jury prize and best actress award at the 15th Marrakech International Film Festival on Saturday.
The selected group will be now be presented during the opening weekend of the 66th Berlin International Film Festival (February 11 – 21).
The jury of European film professionals included: Anamaria Marinca, the Romanian actress who was selected as a Shooting Star in 2008; Italian producer Marta Donzelli; Greek film director Constantine Giannaris; German film editor and critic Tobias Kniebe; and Danish casting director Rie Hedegaard.
The jury made its selection from 24 nominees put forward by the EFP member organisations this year.
The line-up for the 19th edition of Shooting Stars - with their nominated films - is as follows:
Belgium: Martha Canga Antonio (Black)
Croatia: Tihana Lazović (The High Sun)
France: Lou de Laâge (The Wait)
Germany: Jella Haase (Four Kings)
Spain: María Valverde (Exodus)
Iceland: Atli Óskar Fjalarsson (Sparrows)
Italy: Sara Serraiocco (Chlorine)
Netherlands: Reinout Scholten van Aschat (Beyond Sleep)
Greece: Daphné Patakia (Interruption)
Switzerland: Kacey Mottet Klein (Keeper)