A wealth of openers on a hot weekend in the middle of an exciting World Cup meant a challenging three days for UK distributors.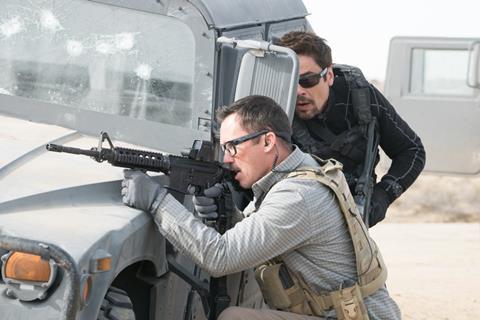 | | | | | |
| --- | --- | --- | --- | --- |
| Rank | Film / Distributor | Three-day gross (June 29-July 1) | Running gross | Week |
| 1 | 'Jurassic World: Fallen Kingdom' (Universal) | £2.0m | £34.5m | 4 |
| 2 | 'Ocean's 8' (Warner Bros) | £1.3m | £6.9m | 2 |
| 3 | 'Sicario: Day Of The Soldado' (Lionsgate UK) | £657,675 | £700,059 | 1 |
| 4 | 'Tag' (Warner Bros) | £468,000 | £468,000 | 1 |
| 5 | 'Sanju' (Fox) | £445,000 | £445,000 | 1 |
Source: Screen International

Universal Pictures
Jurassic World: Fallen Kingdom defied the warm weather and competition from the World Cup football tournament to stay at the top of the UK weekend chart for the fourth week in a row.
It grossed £1,989,779 from 641 sites, a decline of just 38% week-on-week, to take its total gross to date to £34,486,036. Although this is still far short of Jurassic World's UK gross of £74.7m in 2015, the film's peformance in the territory is testament to the enduring appeal of the family dinosaur action film.
The sequel has now crossed the $900m mark worldwide.
Lionsgate UK
The biggest opener of the weekend was Stefano Sollima's Sicario: Day Of The Soldado, which grossed £657,675 Friday to Sunday from 533 sites. Its UK total is £700,059 including previews. Josh Brolin and Benecio del Toro return to the fray – this time without Emily Blunt – as CIA operatives on the frontline of the US's war on drugs with the Mexican cartels.
The first Sicario, directed by Denis Villeneuve, achieved an opening three-day weekend of £1.6m and went on to gross £5m in the UK for Lionsgate in October 2015.
The Happy Prince grossed £66,063 over the weekend for Lionsgate, to take the portrait of the last days of Oscar Wilde to an impressive gross of £539,210 after three weeks on release. Rupert Everett, Colin Firth and Emily Watson star in the film which marks Everett's directorial debut.
Ian Bonhote and Peter Ettedgui's McQueen, a documentary about the late acclaimed fashion designer Alexander McQueen, grossed £17,444, taking it to a total of £520,685 after four weeks on release.
Warner Bros
Gary Ross's comedy heist drama Ocean's 8 dropped off 43% on its second weekend, grossing £1.3m from Friday to Sunday. The film, which features a stellar cast led by Sandra Bullock, Cate Blanchett and Rihanna in a gender-flip take on Steven Soderbergh's Ocean's franchise, has garnered £6.9m to date.
Warner Bros also opened the US comedy Tag with takings of £468,000 from 447 sites. Jeremy Renner and Ed Helms star in the real-life story of a group of college friends who take a game of tag with them into adult life and the real world – for years.
20th Century Fox
Fox's UK release of Bollywood title Sanju, a biopic of the dramatic life of actor Sanjay Dutt, is the fifth-highest grossing film at the UK box office this week, with a three-day gross of £445,000 from 116 sites for a sturdy site average of £3,800.

Deadpool 2 took £241,000 this weekend from 344 sites for a cumulative gross to date of £32m after eight weeks on release. The first film grossed £38.1m in 2016.
STX Entertainment
The well-reviewed survival-at-sea thriller Adrift, starring Shailene Woodley and Sam Claflin, was edged out of the top five with a three-day opening weekend gross of £401,421 from 464 sites. The film is directed by Iceland's Baltasar Kormakur.
Entertainment Film Distributors
Hereditary grossed a further £432,276 over the three day weekend to take it to a UK total to date of £4.6m.
The Walt Disney Company
Mandie Fletcher's picture-perfect London-set family film Patrick, about a loveable pug, had a lacklustre three-day opening of £295,000 from 513 screens for a site average of just £575. The UK comedy stars Beattie Edmondson, Ed Skrein and Emilia Jones with a who's who of local comedy actors including Jennifer Saunders and Roy Hudd.
Solo: A Star Wars Story garnered a further £185,000 to bring its UK gross to £19.1m, while Avengers: Infinity War added £78,000 this weekend. Its UK total is now £70.6m to date.
Paramount
Family animation Sherlock Gnomes grossed £106,000 to take the mystery-with-garden-gnomes film to a UK cume of £8.4m to date. Bill Holderman's Book Club, starring Diane Keaton and Jane Fonda, added £380,000 this weekend and has grossed £3.9m in the UK so far.
Vertigo
Isabel Coixet's English-language Berlinale title The Bookshop opened on £44,072 from 95 sites. It grossed £65,559 including previews.
Sony Pictures
Leave No Trace, which premiered at the Sundance Film Festival and screened at Sundance London, grossed £46,000 from 98 sites. In its 16th week on release, Peter Rabbit grossed £13,000 on 198 screens to bring its cume to date to £40.9m.
Curzon
On its second week on release, Fatih Akin's thriller In The Fade, starring Diane Kruger, took £6,297 for a total of £48,973 to date.
eOne
Show Dogs grossed £51,790 from 437 sites this weekend for a cume total of £3m.
Picturehouse
Stephen Cookson's UK title Stanley A Man Of Variety, starring Timothy Spall, grossed £403 from two sites to take it to a UK gross of £5,398.