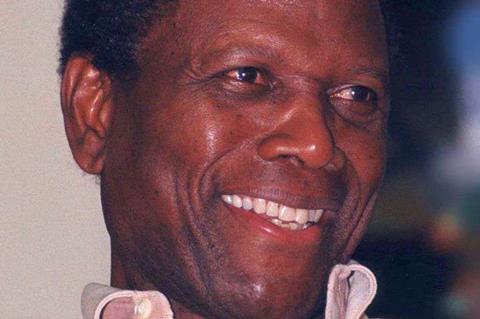 The Poitier family have hailed Sidney Poitier's "incredible grace and moral fortitude" as Viola Davis and former US president Barack Obama have also been paying tribute to Sidney Poitier today following the trailblazing Oscar winner's death at the age of 94.
Davis took to Twitter where she said Poitier's death was "a big one", adding: "No words can describe how your work radically shifted my life. The dignity, normalcy, strength, excellence and sheer electricity you brought to your roles showed us that we, as Black folks, mattered!!!"
In a Twitter post Barack Obama said, "Through his groundbreaking roles and singular talent, Sidney Poitier epitomized dignity and grace, revealing the power of movies to bring us closer together. He also opened doors for a generation of actors."
Reflecting on Poitier's activism Questlove, whose documentary and awards contender Summer Of Soul pays homage to the Civil Rights movement and Black culture, noted Poitier's impact on his upbringing in a post on Instagram. "[T]his is more of a personal reflect because of the bonding his '70s movies did for my family and I," he said. "Rest in peace. And thank you."
Filmmaker and actor Tyler Perry said on Instagram, "The grace and class that this man has shown throughout his entire life, the example he set for me, not only as a Black man but as a human being will never be forgotten."
Media mogul Oprah Winfrey said, "For me, the greatest of the 'Great Trees' has fallen: Sidney Poitier. My honor to have loved him as a mentor. Friend. Brother. Confidant. Wisdom teacher. The utmost, highest regard and praise for his most magnificent, gracious, eloquent life."
In a statement Martin Scorsese said, "For years, the spotlight was on Sidney Poitier. It was almost always for reasons other than the fact that he was an excellent actor. With good reason, given the horrors he faced as a young man and the obstacles he had to overcome long after he became a star. But he had a vocal precision and physical power and grace that at moments seemed almost supernatural. His most widely remembered films are the ones that broke racial barriers in Hollywood, but he was just as good in many other pictures that we should all look at again, like No Way Out, Edge Of The City or The Bedford Incident. He was a major figure in our cinema and in our culture, and his courage as an artist and as a citizen were exemplary."
The full statement from the Poitier family appears below:
"There are no words to convey the deep sense of loss and sadness we are feeling right now. We are so grateful he was able to spend his last day surrounded by his family and friends. To us Sidney Poitier was not only a brilliant actor, activist, and a man of incredible grace and moral fortitude, he was also a devoted and loving husband, a supportive and adoring father, and a man who always put family first. He is our guiding light who lit up our lives with infinite love and wonder. His smile was healing, his hugs the warmest refuge, and his laughter was infectious.

"We could always turn to him for wisdom and solace and his absence feels like a giant hole in our family and our hearts. Although he is no longer here with us in this realm, his beautiful soul will continue to guide and inspire us. He will live on in us, his grandchildren and great-grandchildren — in every belly laugh, every curious inquiry, every act of compassion and kindness. His legacy will live on in the world, continuing to inspire not only with his incredible body of work, but even more so with his humanity.
"We would like to extend our deepest appreciation to every single one of you for the outpouring of love from around the world. So many have been touched by our dad's extraordinary life, his unwavering sense of decency and respect for his fellow man. His faith in humanity never faltered, so know that for all the love you've shown him, he loved you back."