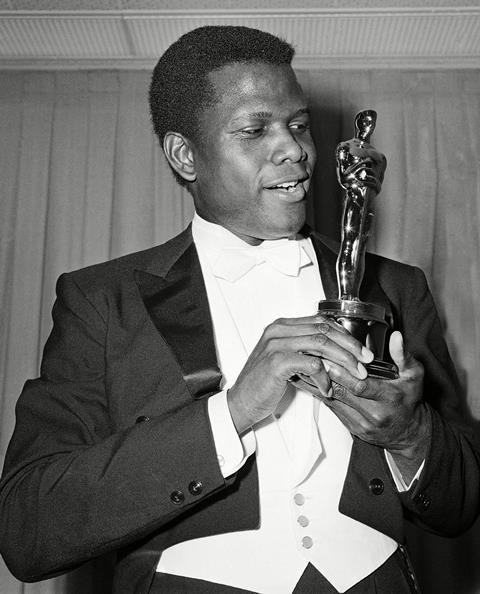 Sidney Poitier, the first Black man to win the Academy Award for best actor, has died aged 94.
Bahamas' minister of foreign affairs Fred Mitchell confirmed the US-Bahamanian actor died on Thursday evening (January 6).
Poitier was born in Miami and grew up in the Bahamas. He was back in the US at the age of the 15 and after a brief stint in the army during the Second World War made his way into the Black theatre scene in New York.
His first notable film role came in the 1950 noir No Way Out before a dearth of jobs took him to South Africa where he shot Cry, The Beloved Country.
Upon returning to the US Poitier starred in 1955's Blackboard Jungle. It was a hit and regular work followed with an acclaimed performance in The Defiant Ones opposite Tony Curtis. The pair played escaped convicts who must learn to cooperate and it earned both men lead actor Oscar nominations.
Poitier was building momentum and after A Raisin In The Sun came his Oscar-winning lead actor role in Lilies Of The Field in 1963, in which he played an itinerant worker encountering a group of East German nuns who believe he has been sent to them by God to build them a new chapel.
Career highlights included an extraordinary run in 1967 with In The Heat Of The Night, Guess Who's Coming To Dinner and To Sir, With Love. Later on in his he appeared in Sneakers in 1992.
Poitier received two further Academy Award nominations, six Bafta nods and 10 Golden Globe nominations as well as an honourary Oscar in 2002.
He also directed several films, including hit Richard Pryor-Gene Wilder comedy Stir Crazy.
The Poitier family said in a statement:
"There are no words to convey the deep sense of loss and sadness we are feeling right now. We are so grateful he was able to spend his last day surrounded by his family and friends. To us Sidney Poitier was not only a brilliant actor, activist, and a man of incredible grace and moral fortitude, he was also a devoted and loving husband, a supportive and adoring father, and a man who always put family first. He is our guiding light who lit up our lives with infinite love and wonder. His smile was healing, his hugs the warmest refuge, and his laughter was infectious. We could always turn to him for wisdom and solace and his absence feels like a giant hole in our family and our hearts. Although he is no longer here with us in this realm, his beautiful soul will continue to guide and inspire us. He will live on in us, his grandchildren and great-grandchildren—in every belly laugh, every curious inquiry, every act of compassion and kindness. His legacy will live on in the world, continuing to inspire not only with his incredible body of work, but even more so with his humanity.
"We would like to extend our deepest appreciation to every single one of you for the outpouring of love from around the world. So many have been touched by our dad's extraordinary life, his unwavering sense of decency and respect for his fellow man. His faith in humanity never faltered, so know that for all the love you've shown him, he loved you back."