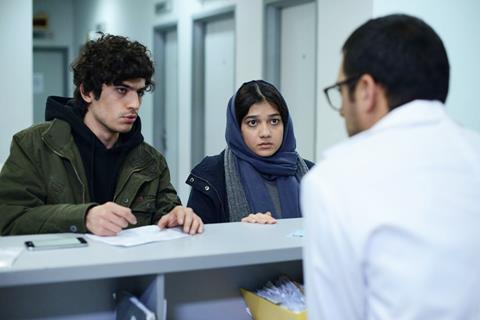 The 28th Singapore International Film Festival (SGIFF) has unveiled its full lineup today with 112 titles, including 18 world premieres, 17 international premieres and six Asian premieres.
With Indian filmmaker Shekhar Kapur as head of jury, the Silver Screen Awards will see eight Asian feature titles in competition, including Ali Asgari's Disappearance, Xu Bing's Dragonfly Eyes, Huang Hsin-yao's The Great Buddha+, Anucha Boonyawatana's Malila: The Farewell Flower, Matan Yair's Scaffolding, Ana Urushadze's Scary Mother, Kamila Andini's The Seen And The Unseen and Tan Seng Kiat's Shuttle Life.
As previously announced, the festival will open with Chinese director Vivian Qu's Angels Wear White, which recently competed in Venice. Three films will receive a gala showcase through the Special Presentation section - Anup Singh's The Song Of Scorpions, The White Girl by Jenny Suen and Christopher Doyle and Atsuko Hirayanagi's Oh Lucy!.
The Singapore Panorama will present two world premieres – Gavin Lim's Diamond Dogs and Chew Tze Chuan's Shadows Of Fiendish Ancestress And Occasionally Parajanov On Durian Cialis (Lesser #9) – and two international premieres –hUSh by Kan Lume and Djenar Maesa Ayu and Wesley Leon Aroozoo's I Want To Go Home.
The Singapore Panorama will also celebrate the 15th anniversary of two iconic Singapore films, Jack Neo's I Not Stupid and Talkingcock The Movie by Woo Yen Yen and Colin Goh.
Since 2016, SGIFF will commission a new short film to nurture up-and-coming Singapore filmmakers. Chiang Wei Liang, winner of SGIFF 2016's best Singapore short film, is the second filmmaker selected for Festival Commission. His new short film Nyi Ma Lay which touches on the social issues of domestic workers will make its world premiere at the festival.
The festival will pay tribute to two Asian cinema veterans: award-winning Indonesian filmmaker Garin Nugroho and renowned Japanese actor Koji Yakusho will receive the Honorary Award and the Cinema Legend Award respectively.
Both of them will give a masterclass. Other festival guests such as Kapur, Hong Kong filmmaker Clara Law, Hong Kong producer Philip Lee and various industry executives will also deliver talks at the festival.
Beyond film screenings, the festival is committed to educational initiatives as part of its vision to build filmmaking in Southeast Asia. In addition to the existing Southeast Asian Film Lab and the Youth Jury & Critics Programme, the inaugural Southeast Asian Producer's Network will be launched this year. It will bring together 11 regional commissioners and producers to chart the future of collaborative filmmaking in the region. They include representatives from Astro Shaw, HBO Asia and Catchplay as well as producers Chan Pui Yin, Bianca Balbuena and Bernard Chauly.
The 2017 edition will mark Thailand-born Pimpaka Towira's first year as SGIFF programme director, following the departure of former programme director Zhang Wenjie.
SGIFF will run from Nov 23 – Dec 3 as part of the Singapore Media Festival (SMF) hosted by Info-communications Media Development Authority of Singapore (IMDA). SMF also comprises the Asia TV Forum & Market (ATF), ScreenSingapore and Asian Television Awards.