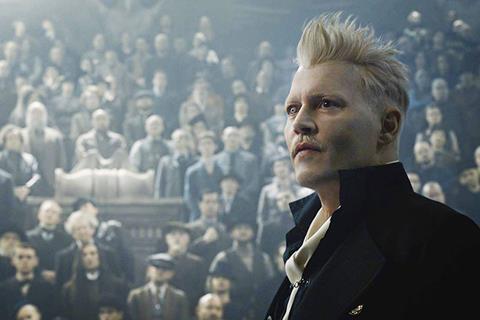 While genuinely frisson-inducing personal appearances by movie stars and memorable Hollywood casting annoucements of yesteryear were thin on the ground at Comic-Con this year, the event side-stepped into a new role that highlighted the pervasive desire in entertainment to champion inclusion, or at least be seen to champion inclusion, and stand up to intolerance.
For sheer show-stopping grandeur it may never get better than Tom Hiddleston's appearance in costume as Loki several years ago, when the British star's charm and pantomime menace reduced the audience in the hangar-sized Hall H in San Diego's Convention Center to a jelly-like mass of adulation.
Similarly, the sight of Robert Downey Jr sashaying up to the stage for an Avengers presentation while tossing red roses into the crowd will linger long in the memory of the several thousand who witnessed the occasion.
This year there was no Game Of Thrones, Westworld, or Stranger Things on display, yet the #MeToo era is inspiring new hero prototypes, and opportunities to tell new stories about previously marginalised characters. Invetiably for an event where fans of all shapes and sizes have always been quick to link arms and share in their fanatical love of pop culture, this was readily embraced.
Buffy is back
20th Century Fox Television is producing a rebooted Buffy The Vampire Slayer, more than two decades after Sarah Michelle Gellar made her entrance. Gellar won't return; instead the lead will be played by a black actress. More news to come. Additionally, while original show creator Joss Whedon is on board as executive producer, the role of showrunner and writer goes to Monica Owusu-Breen (Agents Of SHIELD).
Supergirl
Sticking with breakout casting news, trans activist Nicole Maines has been cast in the CW's Supergirl as a new, slightly reconfigured trans superhero Nia Nal, who becomes Dreamer, a new version of 1960s DC comic book hero Nura Nal AKA Dream Girl. Maines emerged victorious in 2014 in a discrimination case after her school district in the state of Maine blocked her use of a girls' bathroom.
Doctor in the house
Jodi Whittaker turned up to talk up her lead role in Doctor Who – she is the first woman to portray the Time Lord – during a panel that was moderated by a woman, IGN's Terri Schwartz, who stepped in to replace Con veteran Chris Hardwick. The latter had been scheduled to moderate four panels and was a no-show this year as he deals with allegations of abuse from his ex-girlfriend Chloe Dykstra.
Memories of a five-year-old
George Takei revealed he is writing a graphic novel about his experience as a young child growing up in a WWII era Japense-American interment camp.
James Gunn fired from Guardians
The James Gunn firing was arguably the talk of the Con, after the Guardians Of The Galaxy writer-director was booted off the franchise by Disney chiefs when inappropriate tweets resurfaced years after he first posted them. The tweets took a swipe at rape, paedophilia and the Holocaust in what Gunn has claimed were meant as jokes. Studio chiefs didn't see the funny side after right-wing website The Daily Caller dredged them up to shame the anti-Trump Hollywood filmmaker. Guardians star Dave Bautista and others have come out in support of Gunn, but it was too late. A Sony panel that Gunn was due to attend was scrapped. More than 150,000 have reportedly signed a petition to get Gunn reinstated.
Depp trumpets Fantastic Beasts
The Gunn furore didn't stop Warner Bros from bringing along Johnny Depp, who has been accused of abuse by ex-wife Amber Heard, to talk up November release Fantastic Beasts: The Crimes Of Grindelwald. In a scheduling quirk, for want of a better phrase, Heard took to the stage after that with the Aquaman crew. She plays Mera in DC Entertainment's December release.