Following the launch of its Sky VR app, the broadcaster is now focusing on commissioning original, high-end VR content.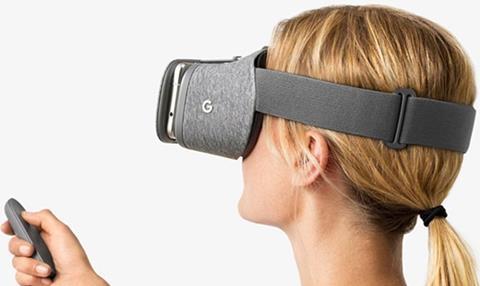 Speaking at today's VR Creative Summit (Nov 6) at London's Picturehouse Central, Sky executives Neil Graham (executive producer at Sky VR) and Richard Nockles (creative director of Sky VR Studios) discussed the company's ongoing virtual reality strategy.
Graham revealed that Sky is focused on producing "high-end VR content", and that it is actively looking to commission original VR projects that aren't tied into existing properties.
The pair introduced a behind-the-scenes look at a scripted VR experience that Sky is producing to tie-in with its upcoming high-end television series Britannia, filmed on location in Prague. The film will be around six minutes long and will give Sky VR app users a unique viewing angle of one of the programme's largest set pieces.
"That's the future of VR. Typically a big production like this would never have VR but I think it's coming," said Nockles
Quizzed by session host Alex Farber from Broadcast Magazine on what specific type of high-end content Sky was looking to produce, both panellists agreed that making VR drama was the greatest unsolved challenge. They also added that interactive elements of VR experiences would also be a crucial part of the strategy going forward.
Sky launched its own VR app in October this year, with content currently available including Sky Sports VR experiences and tie-ins with films including Suicide Squad and The Jungle Book.
Graham said that while the company would not be releasing any usage figures at this stage, the "downloads have been very positive", but the company's future strategy will see them put less resource into VR tie-ins and more into original, bespoke VR experiences.
"At the moment it's quite easy to stick a VR headset on someone and impress them. We need to make sure the content gets richer, that's the stage we're at now," noted Graham.
"We want to push the industry forward," he said, adding that they were looking to commission "brand new ideas… that can create a wow factor and can be game-changing".
If the company is pitched a strong enough VR proposition, they would considering spinning further content out of it, such as stand-alone TV series, Graham revealed: "My dream scenario is to be pitched a VR project that spawns a traditional piece of content off the back of it, rather than the other way around."
Despite its Sky VR app being fully operational, both Graham and Nockles were keen to stress that the medium is still in a nascent stage. "Nobody has cracked it, that's exciting. Nobody in the world knows how to shoot VR. We're engaging in workshops [with Sky's in house directors] now just so we can learn internally," commented Nockles.