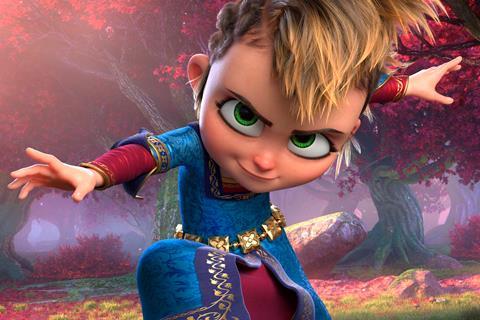 France's SND has unveiled a raft of deals out of this year's online American Film Market (November 9-13).
The feature film arm of the M6 broadcasting group launched a trio of new titles including children's animation Pil's Adventures and Jérôme Salle's political thriller Kompromat, which is currently shooting.
Pil's Adventures has sold to Spain (Big Picture Films), Portugal (Cinemundo), Russia/ex-CIS (Central Partnership), Baltics (Acme Film), Scandinavia (Mis Label), Israel (Lev), ex-Yugoslavia (Blitz), Taiwan (Moviecloud) and Middle East (Salim Ramia).
Directed by Julien Fournet, it is the latest feature animation from TAT Productions, the company behind the hit children's TV show and feature film spin-off The Jungle Bunch.
SND has French theatrical rights and is planning an October 2021 release for the animation which is currently in production.
Set in the Middle Ages, the film's titular heroine is an orphan living in the medieval city of Misty Rock, who embarks on a quest to save its young heir after he is turned into a "chickat" (half chicken, half cat) by an evil regent seeking to hold onto power.
Salle's upcoming political thriller Kompromat, which is currently shooting in Lithuania, also sparked buyer interests with Koch Media taking rights for Germany, Austria and Italy. It has also sold to Poland (Monolith) and Benelux (Athena).
Based on a true story, Gilles Lellouche stars as a French diplomat fighting for his freedom after the Russian secret service attempts to frame him for a crime. It is produced by Super 8 Production, Salle's joint company with internet entrepreneur Marc Simoncini and Albane de Jourdan.
SND has French rights and is planning a 2022 release.
The company is also reporting good business on the SND-produced comedy Employee Of The Month, an adaptation of the 2016 Italian hit Quo Vado, about a small-town bureaucrat determined to hold onto his job-for-life privileges in the face of state reforms.
It has sold to Benelux (Belga), Switzerland (Ascot Elite), ex-Yugoslavia (Blitz), Greece (Spentzos) and Portugal (Cinemundo).
Popular comedian Jêrome Commandeur – best known for his roles in Barbecue, Babysitting 2 and Superchondriac – stars in and directs the French version, which transposes the story to the city of Limoges in southwest France. SND has the French rights and plans a December 2021 release.
Other titles drawing attention on the SND slate included completed works Poly, A Friendly Tale and Appearances. A number of deals are also underway on Kandisha, the latest horror thriller from Alexandre Bustillo and Julien Maury.