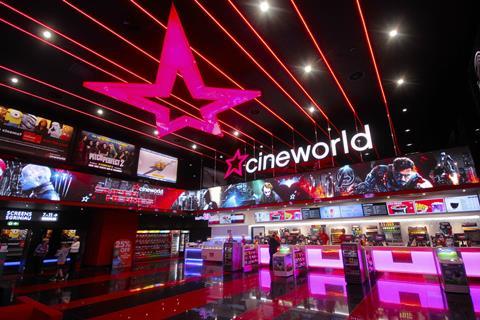 The long-running Cineworld saga has taken a fresh twist this morning with the news the world's second biggest exhibitor has secured $750 million of "additional significant liquidity" as it attempts to deal with the huge fall out for cinemagoing from the Covid crisis.
The latest measures, announced early on Monday, include a new debt facility of $450m, agreed bank covenant waivers until June 2022, and an accelerated tax year closure to bring forward an expected tax refund of over $200m to early 2021.
"The measures we are announcing today deliver over $750m of extra liquidity to support our business," said Cineworld CEO Mooky Greidinger in a statement. "Over the long term, the operational improvements we have put in place since the start of the pandemic will further enhance Cineworld's profitability and resilience… We look forward to resuming our operations and welcoming movie fans around the world back to the big screen for an exciting and full slate of films in 2021."
Additionally, Cineworld is also managing to renegotiate the rental terms for its sites. "The Group has agreed certain material abatements and long-term rent deferrals with key landlords, in conjunction with new lease agreements," the company said in its statement.
The current actions are said to have reduced monthly cash expenditures to around $60m while cinemas remain closed. The expectation now is that cinemas will reopen no later than May 2021.
"The Board is confident this additional liquidity will preserve and maximise shareholder value over the long term," said Alicja Kornasiewicz, chair of Cineworld Group plc, of the new measures.
As a result of its rapid expansion in recent years, Cineworld is widely reported to be sitting on a debt pile of $8bn. Its 660 venues in the UK and its Regal Cinema sites in the US are currently closed because of the pandemic, lockdowns and the shortfall in US releases.
Late last week, it emerged Cineworld is considering a "company voluntary arrangement" (CVA), a form of insolvency process, and that some of its UK sites will not reopen.
There were no details in today's statement about whether certain sites will stay closed. However, the statement made clear that despite the cost-saving measures, Cineworld is continuing "to consider all options to ensure that its business remains viable". Some cutbacks look inevitable.
Those in the UK independent sector are paying particular interest to what will happen now with Picturehouse Cinemas, the network of boutique cinemas owned by Cineworld. Sources close to Picturehouse have greeted today's announcement as "good news" but no further details have emerged of what plans are now in place for the circuit.