The Soho offices of a cluster of creative companies, including Deluxe's UK post-production house Encore, sound studio Angell Sound and VFX/grading house Freefolk, are under threat from a proposed upmarket hotel development.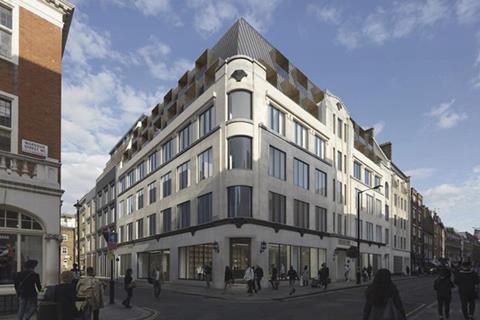 If it goes ahead, the development will mean huge changes of use at the very heart of Soho's post-production community, reports Screen's sister publication Broadcast.
The 176-bedroom, seven-storey hotel, proposed by developer Sir Richard Sutton Limited and architect MoreySmith, would mean the demolition, behind retained façades, of the iconic Film House (142-150 Wardour Street) and 138-140 Wardour Street, and the full demolition of 20 St Anne's Court.
The space would be rebuilt to include the hotel as well as a restaurant at ground floor level, fronting onto St Anne's Court.
Justine White, managing director of Freefolk, which is based at 140 Wardour Street, told Broadcast: "It's really sad that this building, which holds so many memories and stories in our industry, will be gutted. So many clients walk into this building and say: 'I used to work in here'; it is part of the fabric of the industry."
"This hotel takes another bit of Soho out of reach to media companies and is yet another example of how it is being changed forever"
Facility owner
The owner of another facility that would be affected by the hotel development, who wanted to remain anonymous, told Broadcast: "The very foundation Soho has built its reputation on is under threat more than ever before. Do we need another bloody great hotel in the middle of Soho? It will mean a reduction in lettable space, which will further drive up rents."
"This hotel takes another bit of Soho out of reach to media companies and is yet another example of how Soho is being torn up and changed forever."
The development application to the City of Westminster has already received several significant objections from creative companies and representatives of Soho's creative community.
The Soho Society, which has consultative status with Westminster City Council on all planning, licensing, traffic and environmental matters, strongly objects to the proposal.
It said the change of use of Film House would have a longterm negative socio-economic impact on Soho's creative and business community.
"The number of hotel applications within Soho in recent months indicates some form of 'bubble' is forming, and these hotel applications are reducing Soho's ability to provide sufficient space for the creative businesses, which create so much value for Westminster, London and the UK," it said.
"The loss of Film House presents significant risk of Soho's character being permanently changed."
Another comment received by the City of Westminster, from an anonymous source, said: "The loss of use as a centre of the filmmaking business [would mean] a 100-year historical use [being] wiped out. Surely it is the planners' responsibility to ensure Soho does not become just a tourist place full of hotel bedrooms?"
Will you be affected by the proposal? Find out more at bit.ly/FilmHouseSoho