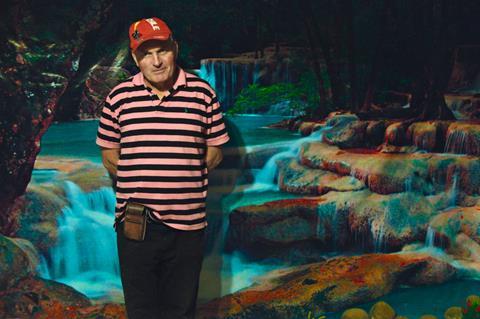 Marianne Hougen-Moraga and Estephan Wagner's trauma exploration documentary Songs Of Repression led the winners at CPH:DOX 2020, which presented its prizes via an online presentation this evening (March 27).
The Danish project took the DOX:Award in the international main competition, awarded by a jury of the Sundance Institute's Brenda Coughlin; DOK Leipzig festival director Christoph Terhechte; Romanian director Alexander Nanau; and Danish director Pernille Rose Grønkjær.
See below for the full list of winners
The film explores the different strategies used to deal with trauma by residents of a Chilean town that has seen systemic child abuse, medical experiments and torture chambers.
The jury praised the "variety of complex, interesting and endearing characters" and "magical cinematic moments that are true to the tradition of cinema verité."
"It is through a sensitive and authentic relationship to their characters that the filmmakers create a space in which the characters reflect, sometimes it seems for the first time, upon the most private and hidden moments of their past," they continued.
Songs Of Repression also became the first recipient of the Danish:DOX prize for best Danish film.
UK title South from director Morgan Quaintance picked up the New:Vision prize. It is a study of anti-racist and anti-authoritarian movements in communities in the American Deep South, as well as South Africa during apartheid.
The jury noted "an artwork that is at once aesthetically rigorous and generously open."
"With its sensitive approach to the people bearing its stories, the film revisits radical movements while avoiding any moralistic didacticism," they continued.
CPH:FORUM, the festival's industry strand which also hosted its activities online, gave the Eurimages co-production development award with €15,000 (£13,414) prize to Hana Korea, directed by Frederik Sølberg, produced by Sara Stockmann and co-produced by Heejung Oh.
The film follows a North Korean refugee who must make changes to her life to become an independent woman in South Korea.
The festival, which is one of the first to have moved online since the coronavirus pandemic led to event cancellations across the globe, has made a number of its titles including several from the main competition available online for international audiences from March 28 until April 5.
CPH:DOX 2020 winners
DOX:Award – Songs Of Repression (Den) dirs. Marianne Hougen-Moraga, Estephan Wagner
New:Vision – South (UK) dir. Morgan Quaintance
Special Mention – Mother's Tongue (Sweden) dirs. Wingyee Wu, Lap-See Lam
Fact:Award – We Hold The Line (Ger) dir. Marc Wiese
Special Mention – The Social Dilemma (US) dir. Jeff Orlowski
Nordic:DOX – Being Eriko (Den) dir. Jannik Splidsboel
Special Mention – Själö – Island Of Souls (Fin) dir. Lotta Petronella
Next:Wave – Mayor (US) dir. David Osit
Special Mention – Sisters With Transistors (UK) dir. Lisa Rovner
Danish:DOX award – Songs Of Repression
Eurimages co-production development award – Hana Korea (Den) dir. Frederik Sølberg