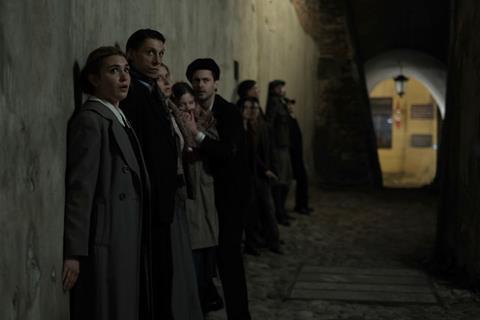 WestEnd Films will introduce Louise Archambault's Second World War drama Irena's Vow to international buyers at the Cannes Marché next week for the US' Quiver Distribution, which controls worldwide rights to the film.
Sophie Nélisse, whose recent credits include Yellowjackets, and the UK's Dougray Scott star in the true story of Polish hero Irena Gut Opdyke that is now shooting in Warsaw.
French-Canadian filmmaker Louise Archambault, a 2020 Canadian Screen Awards nominee for her adapted screenplay to And The Birds Rained Down, directs from the screenplay by Dan Gordon, who also wrote the Broadway play of the same name.
Irena's Vow chronicles how the 19-year-old housemaid sheltered 12 Jewish workers in the basement of the house where she worked for a high-ranking Nazi officer after she learned the Jewish ghetto was to be liquidated.
The film is produced by Nicholas Tabarrok of Darius Films and Beata Pisula of K&K Selekt. The executive producers include Jeff Sackman, Berry Meyerowitz and Larry Greenberg of Quiver Distribution, along with Johnny Mac and Elevation's Noah Segal and Laurie May.
"Irena's Vow is a true story of selflessness that exemplifies how good triumphs over evil when our humanity trumps all other misguided beliefs," said Quiver Distribution co-presidents Berry Meyerowitz and Jeff Sackman.
Maya Amsellem, managing director of WestEnd Films, added: "Now more than ever it feels vitally important to tell inspiring stories like Irena's – she was an extraordinary woman who risked her life to save others and Dan Gordon has crafted a devastating and thrilling script, which vividly depicts her incredible journey."