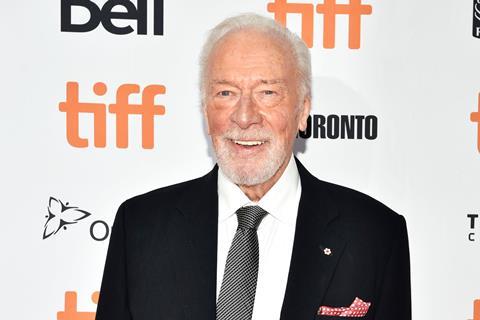 Canadian actor Christopher Plummer has died aged 91. His family confirmed that he passed away peacefully at home in Connecticut with his wife of 53 years, Elaine Taylor, by his side.
Perhaps most famous for playing Captain Georg von Trapp in The Sound Of Music, Plummer's other film roles included The Fall of The Roman Empire, The Man Who Would Be King, The Last Station, All the Money In The World and Beginners, for which he won an Academy Award for best supporting actor in 2012 at the age of 82, making him the oldest actor to win an Oscar.
Plummer was born in Toronto and although he trained as a concert pianist, he preferred to tread the boards. He started performing with Canadian theatre groups in his late teens and moved to England to act with the Royal Shakespeare Company and the National Theatre.
In his mid-20s Plummer debuted in Broadway on The Starcross Story in 1954 and it was not until 1958 that he made his film debut in Stage Struck for Sidney Lumet, before he starred alongside Julie Andrews in The Sound Of Music.
For years Plummer made it clear for years that he did not particularly like the role and expressed frustration that out of all his performances, it would be the one that defined him. However his attitude mellowed and in later years he had only kind words for the production and the experience of acting alongside his dear friend, Andrews.
Ridley Scott convinced Plummer to jump into the role of J. Paul Getty in All the Money In The World when Kevin Spacey exited the project. With barely one month to go before the film was due to be released, Plummer was game and shot multiple scenes in nine days. He earned another Oscar nominations for that role, becoming the oldest person to be nominated for an Academy Award at 88.
In a statement Scott said, "What a guy. What a talent. What a life. And I was fortunate enough to work with him less than 2 years ago and had a wonderful experience. My heartfelt condolences go to Elaine He will be really missed."
Helen Mirren starred opposite Plummer in The Last Station, in which Plummer played Leo Tolstoy and earned his first Oscar nomination in 2010. Mirren said, "He was a mighty force both as man and actor. He was an actor in the 19th century meaning of the word — his commitment to his profession. His art was total, theatre being a constant and the most important part of the totality of his drive to engage with storytelling."
Judy Tossell and Jens Meurer, producers at Egoli Tossell Pictures, said: "What sad news: Christopher Plummer passed away today. What happy memories and what a privilege to have worked with this kind and true gentleman on four films, The Last Station, Remember, Hector & The Search For Happiness, and The Exception.
"Each one a profound masterclass in acting, in filmmaking, in thinking about filmmaking, and in being an absolute inspiration in all of the above.We had a lot of fun, too! Chris will be sadly missed by filmmakers and audiences alike. Our thoughts go out to Elaine, his family and friends."
Rian Johnson, who directed Plummer in the 2019 whodunnit Knives Out as a rich author whose demise triggers the events of the film, told Screen, "Mr. Plummer was not just a legendary actor, but a kind soul who loved his craft. I'm so grateful to have had the opportunity to share a set with him."
Edgar Wright posted a gif on Twitter of Plummer tearing up a Swastika flag in one of many famous scenes from The Sound Of Music and wrote, "Who will save us now?"
Plummer's longtime manager Lou Pitt said in a statement: "Chris was an extraordinary man who deeply loved and respected his profession with great old fashion manners, self deprecating humour and the music of words. He was a National Treasure who deeply relished his Canadian roots. Through his art and humanity, he touched all of our hearts and his legendary life will endure for all generations to come. He will forever be with us."
Plummer married three times. He is survived by Taylor, and his daughter Amanda Plummer from his first marriage to Tammy Grimes.